Feng Shui is also known as geomancy which is a pseudoscience that originated in China. It claims to use the energy forces to bring harmony in the life of people. The word Feng means "wind" and Shui means "water". You would find many Feng Shui objects that promise to bring a harmony, peace, and prosperity in your life. Lucky Bamboo plant is one among those products that claim to improve your life for betterment.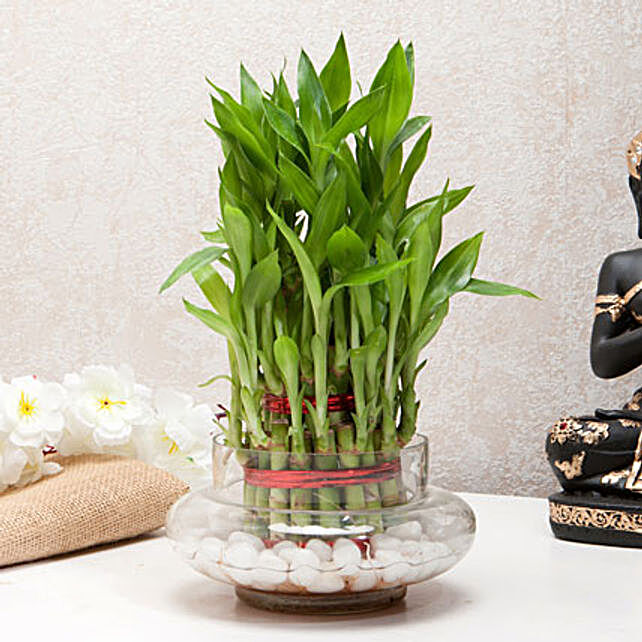 Read some importance of Lucky Bamboo plant below:
People in all culture believes in positive energies which bring good luck. Certain things like a lucky bamboo plant enhance this flow of positive energy and thus keeping it in home or office offers you best results. So, you can bring this plant to your home or office today!
A lucky bamboo plant belongs to the lily family "Dracaena Sanderiana". But as it resembles bamboo more than lily, the bamboo word is attached to its name. As this plant showers good fortune, the word lucky is associated with its name. The condition is that you have to get it as a gift from others to reap some good luck.
The major directions where you can place the lucky bamboo plant are East and South East. If you keep this plant in East direction, your health condition would improve. If you keep it in the South East direction, your wealth and prosperity would improve.
In case you are single and want to mingle, then you must own the 2-stalks of the lucky bamboo plant. It enhances love and romance in your life. Similarly, there is the importance of other numbers of stalks of lucky bamboo plants. To know more about them you may read: https://blog.fnp.com/lucky-bamboo-know-meaning-behind-number-stalks/
If you are looking out for a home décor item, you can bring this plant home. It is one of the low-maintenance plants and can survive in any light condition. Apart from that, there are decorative bamboo plants like heart-shaped, spiral, or wheel-shaped, etc. which would enhance the beauty of your home. So, choose your favorite style!
Lucky Bamboo plants signify the 5 major elements of life. Wood, earth, water, fire, and metal – all these elements are present in this plant and that's why everything in life gains a balance. The stems represent the Wood element and the rocks represent earth. Water that you pour daily on this plant represents water element. The red colored ribbon tied on this plant represents the fire element. The glass pot represents the metal element. In case you get a bamboo plant in a ceramic vase or pot don't forget to keep a metal coin inside it to reap more luck.
The moment you start observing the good changes that happen in your life after the arrival of a lucky bamboo plant, you would believe more in its qualities. So, urge your friends and relatives to gift you a lucky bamboo today!