Anniversary is a celebration of togetherness for life time and if it's your parents anniversary it becomes all the more important to make their beautiful day more splendid and memorable. Come and shop online for classy gifts of your choice at most reasonable rates and do not worry you just need to select and pay through your credit/debit card and rest will be taken care of by the online shopping site as they will pack and get your gift delivered on time. We know these days everyone is really very busy with their lives but one can definitely fetch time for his/her parents and place their order online for an amazing gift especially made for your parents and their special days and all the gifts can be chosen from the websites and a wide variety of gifts and range and size available online can definitely fit in anyone's budget.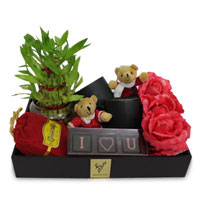 Bring happiness in their life and celebrate their togetherness with all smiles and make them feel special now and always. It is a day which comes just once a year and should be remembered and cherished. So now with so much advancement in technology you no more need to visit stores to choose gifts rather you can simply select your gifts online from variety of products and place your order and the delivery would also not take much time. Many websites also have special offers on anniversary gifts which you can very easily avail. The parents anniversary gifts include items like jewellery, tie belt, wallet, and purse. You can also surprise them with exclusive holiday packages which you can get online with various offers and you just book the ticket and rest will be taken care of.
So just do not miss this chance to make their anniversary grander and bigger because if you love them deeply, if they are happy you will be happier than them and anniversary is just another synonym of celebration so do not let them think this time that it is just an anniversary because it is something bigger than that. Your parents have done so much for you all there life so you can definitely do something for them at least on their anniversary and surprise them with your gifts. The websites are also making midnight deliveries possible so now our parents can actually feel very happy and excited to receive your gift when the clock struck twelve so come ahead and make this day a very special one for them.
You May Also Like :