What do Barrack Obama, Jenifer Lopez, Daniel Radcliffe, Sridevi, Mussolini, G.B. Shaw, Bill Clinton, Coco Chanel, Hitchcock, and Saif Ali Khan have in common? Well, they all belong to Leo Zodiac sign.
The major trait of these personalities is that they are creative and loves to hold the center stage. You can see the body of work of all these famous personalities and they all reveal these two major traits. Leo is the fifth sign of the zodiac and they are those people among the crowd whom you would never ever miss because of their strong desire to grab the attention of people. Very early in their life, these Leo people develop a strong ambition and work very hard in that direction and voila success comes their way. As they love to be on the limelight and have a very creative bend of mind, you would find many artists, actors, directors, politicians, or sportsmen belonging to Leo zodiac sign.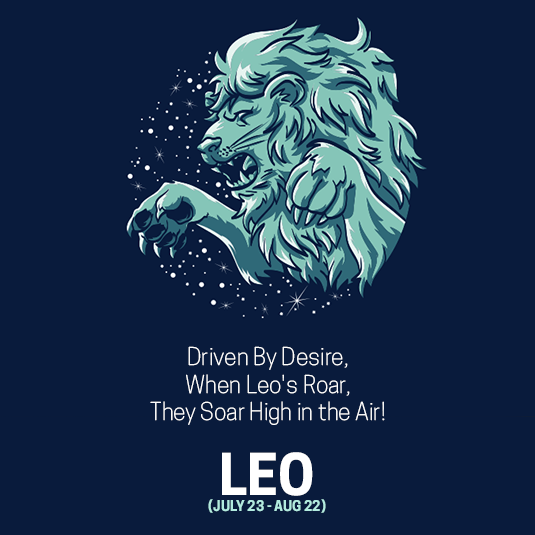 In this blog today, we would discuss certain traits or qualities of Leo personality which only a Leo person can understand well and own them like a Pro! But before that read some more trivia about Leo:
Symbol: Lion
Birth Date Range: July 23rd – August 22nd
Ruling Planet: Sun
Element: Fire
Compatibility Signs: Aquarius and Gemini.
Lucky Colors: Purple, Gold, Yellow, and Orange.
Lucky Days: Wednesday, Monday, and Thursday.
Positive Traits: Creative, Passionate, Generous, Warm-Hearted, Cheerful, and Humorous.
Negative Traits: Arrogant, Stubborn, Self-Centered, Lazy, and Inflexible.
They simply don't need other people to resolve any of their problems or get a work done but they actually love people around them. What they prefer is the companionship of loyal friends and relatives around them.
Leo are born leaders. People fall in love easily with the attractive and charming charisma of Leo people and that's why they accept them as leaders. As a leader or captain, these people run their team really well and also works gracefully under pressure. No one can get works done better than a Leo!
You cannot stop a Leo from narrating the #truestory to the world. In fact, they won't care much if they would lose people from their life for this trait of uttering truth bluntly or not but when a Leo is moved emotionally he/she would say truth rudely. Many people cannot digest so much truth and honesty actually and that draws some foes towards these Leos.
As told earlier, Leo loves to be in the center stage which that attracts a lot of eyeballs. So, the public image is very important to Leo personalities. These people would hesitate to step out of the house without getting dressed properly. They think that every time they step out they have to look their best.
All Leo men and women love the finer things in life and they simply cannot settle for less. These people love all the trendy and plushy things and they don't mind spending all their salary on buying those creative or fine things because when a Leo loves a certain thing, they love to own it.
Leos are natural leaders but much to our surprise, they are also super sensitive. Only another Leo personality can truly understand the pain that is pumping in the heart of another Leo. But they unveil that super-sensitive, super-emotional, and tender-hearted side of their character only in front of their very close friends. For the rest of the world, they are super-powerful, super-courageous, and super-strong a character who doesn't break down at all! Hats off to you Leo!
Seriously, no one can work as hard as a Leo does! A Leo person would never get tired and continue to work relentlessly for hours without sleeping. What do you think motivates them? Well, a dream and ambition of course.
One of the best qualities of Leo personalities is that they can never see a dear friend or relative crying or suffering. They would give away all that they have to refine the life of their best friends. That's why the friends of Leo can never forget them and owe their lives to them.
Ok, hold your breath! If you are looking for a serious relationship and still casually treating a partner of Leo Zodiac sign, think again! You would never get anyone hopelessly romantic like a Leo. You would get a GOLD treatment if they love you truly. They believe in classic and old school love and would never leave their partner!
Leo people can smell that Bull-Shit with their intuition and thus fake-praise or a mind game won't work with the Leos. In short, never mess with a Leo!
If you have any friend or relative who is a fierce and feisty Leo Personality, then you must look out for these gifts – personalized jewelry piece made of ruby or diamond, lavish arrangement of food in some fine dining restaurant, electronic gadgets, perfumes, books, and tickets for drama show, vibrant clothing, or a grooming kit. You can buy some of these things on our website and thus have a proper look at our wide array of gifts to wish the Leo Personality a very Happy Birthday!