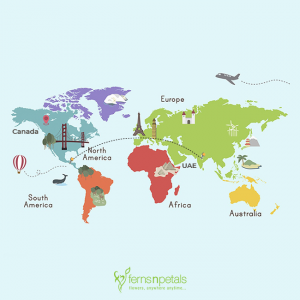 The brand named Ferns N Petals needs no introduction at least to those who are regular to this world of online gifting. Still, for those who are unaware, Ferns N Petals is a 25-year-old name of trust in the world of gifting. We started our journey with one flower shop in South Delhi and now we own more than 300 outlets all over India. Our presence is staggering not only in India but all across the world. From here at Northern Hemisphere to Southern Hemisphere – we are now flexible at serving everyone with wonderful gifts.
Gone are the days when you had to wait for several days or months to get your gifts delivered and let your loved ones know about your feelings. Because Ferns N Petals is now ready to impress you with its swift delivery services. So, for any special occasion, you can simply log in to our beautiful website and add more magic to your life and relationships!
Reasons for Choosing Ferns N Petals For International Gift Delivery
Varied Collection Of Gift Ideas:
We, Ferns N Petals are the number one online gift portal primarily for the variety of gift ideas. The major category of gifts that we have are – flowers, chocolates, cakes, personalized gifts, plants, accessories, unusual gifts, desktop accessories, etc. You would find endless options on our website.
Gifts For All Occasions:
Be it a birthday, anniversary, Thanksgiving, women's day, mother's day, Raksha Bandhan, Valentine's Day, Christmas, New Year, etc. – you would always find a refreshing gift on our online gift store that would add more happiness to your special occasions.
Special Delivery Services:
The most popular gift categories are: flowers, cakes, gift hampers, chocolates, plants, and personalized gifts and to send all these exquisite gifts, you can use our same-day delivery or next day delivery services. So, if you want to impress or surprise a loved one readily, you can use our same-day delivery service and enjoy a gift delivery at the international locations right on the day of order placement. Similarly, with next day delivery services, you can send the gifts the very next day also! Such swift services are not available at any other gift portal!
Reach In 170 Countries:
We, Ferns N Petals are proud to say that, we serve in almost 170 countries worldwide. So, when you have to send gifts to UK from India and greet your friends or relatives, always trust our gifts and services. Not only UK, but we also deliver in USA, Australia, Canada, Singapore, Malaysia, UAE, China, Germany, Ireland, New Zealand, etc.
Brand Value:
We are a name in the market for the last 25 years and no brand can exist in this tough world of competition where every day a new company is cropping up. We have survived for our relevant online gift ideas and our flexible attitude. Being at the top of the game in a cut-throat world of competition means a lot. And that also proves that we have always remained loyal to our customers.
Maximum Number of Gifts:
We have the maximum number of gifts. No other online gift store carries this wide range of gifts! We have accommodated more than 10,000 gift ideas here and thus you would be spoilt with choice. Roses, carnations, or lilies among flowers, red velvet, butterscotch, or chocolate among cakes, lucky bamboo, peace lily, or syngonium among plants, or cushions, mugs, photo frames among personalized gifts – there are plenty of gifts to simply enhance love in your life.