Indoor plants have mystical healing power. Plants bring solace to our lives and home. A dash of the vibrant green shade magnifies the whole look of any room. A gorgeous plant with large foliage makes for a remarkable addition to your living room. An indoor plant with large leaves looks aesthetically pleasing and can be kept in any room.
If making a comfy and beautiful corner in your room is on your mind, then consider getting a big leaf indoor plant along with a bean bag and a stunning lamp. The fantabulous combination of these three essentials will create a special corner in your room where you can sit and work or Netflix and chill! All set to welcome a ravishing indoor plant to your casa? Here is an intricately created mini guide of the top 8 big leaf indoor plants for every room. Spread the striking green shade to all your rooms by purchasing a big leaf indoor plant right away!
Giant Bird of Paradise
The living room holds immense importance as it is where we meet and greet our guests. A living room with a chic decor stands out and receives a lot of compliments. The Bird of Paradise plant is the most suitable plant for your living room. Known for its colourful flowers that look like a bird's beak, this plant is a superb addition to that lonely corner in your living room.
Philodendron Plant
Another amazing option for your living room decor is a Philodendron plant in an eye-catching melamine pot. Philodendron plants are popular as they purify the air and require low maintenance. Keep a red Philodendron plant on the table of your living room, and we assure you apart from breathing in purified air, this plant will also be a treat to the eyes!
Syngonium Green Plant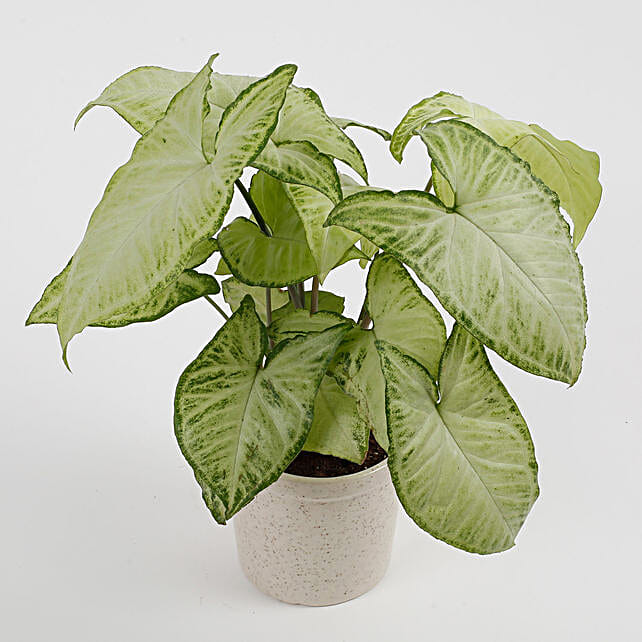 Syngonium green plants are big leaf plants that require low light and are perfect for your bathroom. These plants purify the air and remove the toxic elements from the air. Does your large bathroom cabinet look empty? Bring a Syngonium green plant and place it on the top as it is the best fit!
Areca Palm
Famed as the Golden Cane Palm, Areca Palm is one of the most popular ones on our list of top 8 big leaf indoor plants. Keep the Areca Plant on your kitchen window to add a touch of greenery to the best part of your home. Areca Plant adds moisture to the surroundings and purifies the air all around.
Chamaedorea Plant
The elegant Chamaedorea plant is undoubtedly an excellent choice for your kid's room. According to NASA, this plant is one of the best plants that purifies the air. This plant needs low light and requires minimalistic care. Chamaedorea is a fabulous choice for your munchkin's room.
Aglaonema White Plant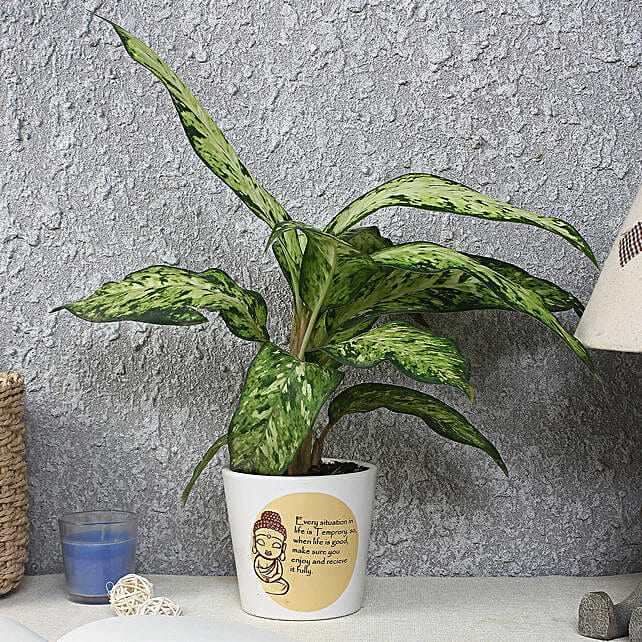 Aglaonema White Plants have large and glossy leaves which makes the plant look mesmerizing. If you are a person who doesn't like the sunlight, then Aglaonema Plant will surely be the best buddy you can ever have. This plant survives in low light and is not fond of sunlight. It is also popular as the Lucky Plant, and you can keep it at your working space.
Phoenix Palm Plant
Phoenix Palm Plant is the happy indoor plant that loves to stay far from sunlight. This plant is a low maintenance plant and is suitable for your dining room. This attractive plant purifies the air and will be just the right amount of green you need for your dining area.
Sansevieria Plant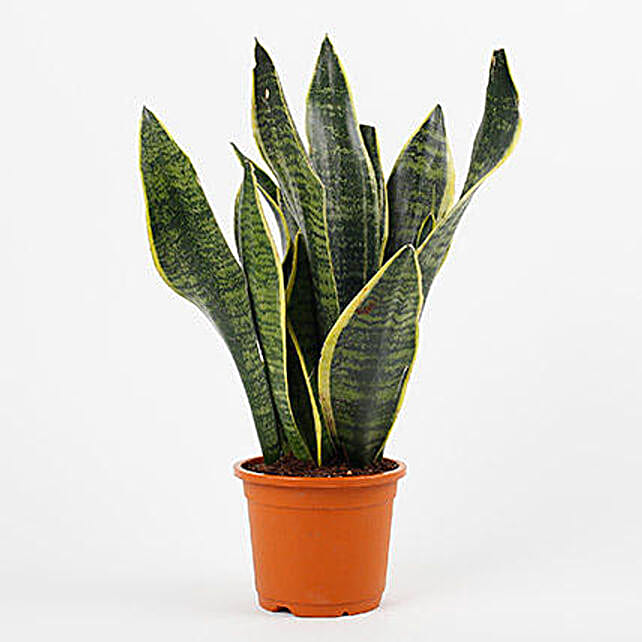 Popular as the Snake Plant, Sansevieria Plant was specially created by God for those who are a little lazy. If you have that lazy person in your family, then Snake Plant will be the best decor item for his/her room. In addition to needing low attention, Snake plants also purify the air!
Plants are loyal friends that we need in our lives. To make your home a serene place, you must pick one of these top 8 big leaf indoor plants for every room and bring them home right now!