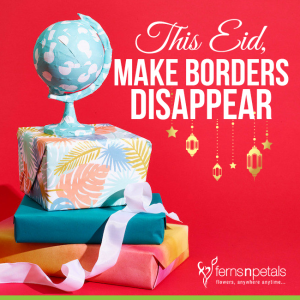 Roughly 1.8 billion people across the world are Muslims and that is nearly 24.1 % of the total world population. Eid is thus definitely one amongst the biggest festivals of the world that is celebrated with fun and fervor. Like all other big festivals, Eid also highlights meeting old friends & relatives, feasting, & greeting with fancy Eid Mubarak gifts. People return home to celebrate love, laughter, and peace with their near and dear ones. But there are also certain people who cannot return home or some people who have their relatives scattered all over the world.
Those people who are away from the close-knit family or relatives feel lost in the web of work. They sit down and miss the old times of togetherness which is felt during festivals. For example, when a sibling opens a gift box, the other one is equally excited to see the gift. Then there is another 1 hour spent in letting everyone know about the "Eidi" received. The smell of great food and dessert is not completely enjoyed until and unless the Uncle famous for his weird tales joins them for lunch or dinner. So, there is a whole year long wait for the arrival of that uncle. Later all his tales are remembered and re-told until the next Eid. There are also episodes of going to the mosques together with elders and donating food & clothes to the needy on their way back – there is vital education from these deeds which the kids learn & elders find satisfaction in.
Any big and bright festival is not only about glitterati – it is a lot more about our traditional values and cultural heritage. The joy of sharing happiness with close friends and relatives cannot be matched with anything else in this world. Thus, the members of those families which are fragmented during Eid definitely go through an emotional roller-coaster ride.
Eid is also a lot about educating people about strengthening their inner self & sharpening their tolerance level. The fasting during Ramadan & the feast during Eid, therefore, holds a significant place in the transformation of people. The youth of today learn the lessons of love, peace, solidarity, friendship, sharing, and caring during these big festivals which see a congregation of people.
For all those people, who are away from their loved ones, Ferns N Petals is no less than a magic box. It is not possible to meet and greet everyone in your family or relative circle. But you can simply send Eid Mubarak gifts online to international locations and make borders disappear.
Be it the USA, UK, Singapore, Malaysia, UAE, Australia, or New Zealand – you can send your greetings to all your friends and relatives on this Eid and make them feel special. You will find all sorts of traditional and contemporary gifts here that will add more excitement to your celebration.
You May Also Like :