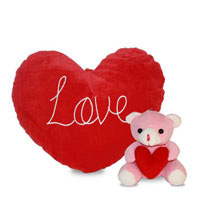 Romance, it is something without which life is incomplete. It is something which adds up the extra spice in our life. It expresses how much we love people. We don't need an occasion to show how much we love the other person, but sometimes occasions are necessary for us to express ourselves. We need an occasion which gives us an opportunity to tell the other person how much we adore them. Especially when it's our wife or fiancé, showing them how much we love them becomes a necessity for a healthy relation. Valentine's Day is the best occasion when you can let the other person know that they mean the world to you.
Valentine's Day is the day when you can express yourself, the day when nobody can stop you from showing how you feel. We don't generally go and tell people we love them in our day to day busy lives. We need a force, an occasion or a beautiful opportunity so that we can not only express but impress our loved ones. Love has to be in the air during the entire week of the valentine's. Ferns N Petals is there to help you out so that your relationship can get strengthened and the feel of love is maintained. You can give sweet gifts to your loved one like yummy chocolates, cute soft toys, cool t-shirts etc. all you need to do is visit the nearest store of Ferns N Petals and order for your desired gifts or you can even visit the website www.fernsnpetals.com and order anything from the wide variety available.
. It's on these special days when we actually take out time from our busy lives and express ourselves to our friends and show them how much we care and love them. So why wait, when we can do so much with so little efforts!
We love our wives and they deserve to be shown that we love them so why hesitate when you can do so in such a beautiful and interesting way which will not only make her happy but make the Valentine's Day worth remembering… You can surprise them and gift them all their favourite stuff along with Ferns N Petals. Love is in the air and make it wander everywhere, let everyone experience the joy of being in love, let everyone feel the serenity and innocence of love. This is the chance and you have the best way possible to express your feelings for your loved one. So go ahead and spread love this valentines.