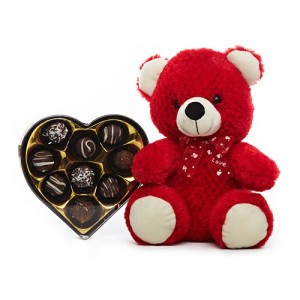 One day of the year which only belongs to you and your sweetheart is about to come. Your partner will never ask for more time than on this day because they definitely deserve attention as they are the most cherished part of your life. So if you are confused on what to gift your Valentine this season then you should definitely approach us at Ferns N Petals as we have some amazing gifts which you can gift to your beloved. So do not wait for any opportunity and simply come and pay us your visit or you can simply shop for any gift online from the variety of gifts we offer. One the occasion of Valentine's Day gifts have especially been ordered from abroad and all the products are very much in demand so do not waste any time and rush to the nearest outlet now.
We have a lot of lovey-dovey items like artificial roses and all our products have especially been customised in colour red to fill the whole ambience with love. We understand our customers very well and know that you do not much time to relax and be with your love but you can always make him or her happy with your affectionate gestures. These gifts are not that expensive that you will need to save a lot of money rather anyone can afford it very easily. We also have special gift vouchers and hampers which you can buy as they are available in various rang and sizes.
Show your love and care make your lover go gaga over your gifts .And so what if you are not around him or her and cannot meet her or him on Valentine's Day your gift will always keep you both closer and you will always be in each other's heart. Come and unlock the doors of your happiness and become the reason of your beloved's smile. Do not miss on this wonderful opportunity and let love blossom always in your life. These gifts are not merely gifts but your remembrance. So this valentine, pledge to love your darling the maximum and make them realise that they are the soul of your life and the most amazing being for them. We get many occasions to celebrate with our family and loved ones and stay as one but very rarely we get chance to celebrate with our partner so make most of this Valentine and shower your love with some extraordinary gifts.