Gleaming diyas, hearts full of happiness and faces lit-up with a warm smile, Diwali is a mix of many such emotions and feelings. The festival of Lights is a celebration of the power of good over evil. As soon as Dussehra ends, Diwali vibes spread all around us. Suddenly bright lights and euphoria fill our lives, and each moment spent with family becomes noteworthy. The quirky discussions on the dinner table are all about gifts and sweets. The favourite family members are surprised with impeccable gifts, and the fun-packed nights are the new way of life. To make your tradition of sending gifts to loved one's extra special, here is a curated list of handpicked personalised Diwali gifts under Rs 2000. This superb list will not only be easy on your pockets but will add the oomph factor to your gifts!
Spectacular Diwali Theme Personalised Cushion & Diyas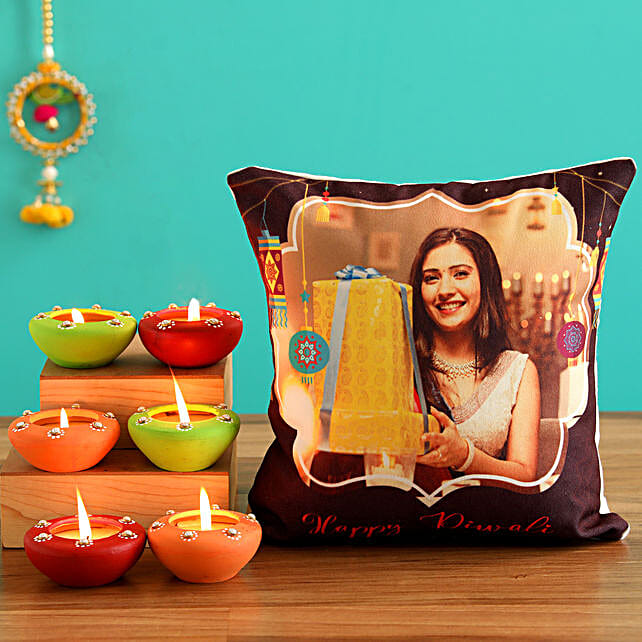 A personal touch enhances the emotions related to a gift. A personalised cushion is a thoughtful gift for your family and friends. The set of colourful diyas are a symbol of light and are an amazing home decor item for Diwali.
Beautiful Rose Quartz Wishing Tree & Cookies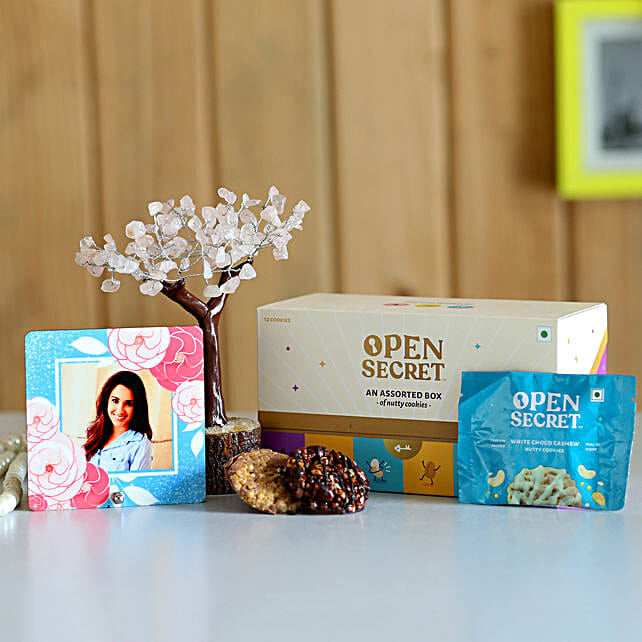 A gorgeous Rose Quartz wishing tree perfectly packed with scrumptious cookies is an ideal choice for your favourite sibling. Rose Quartz purifies the heart and opens it up for self-love and care. Cookies, on the other hand, will satiate the taste buds of your favourite relative. Add a personalised picture, and you are good to go!
Personalised Diwali Assorted Chocolates Box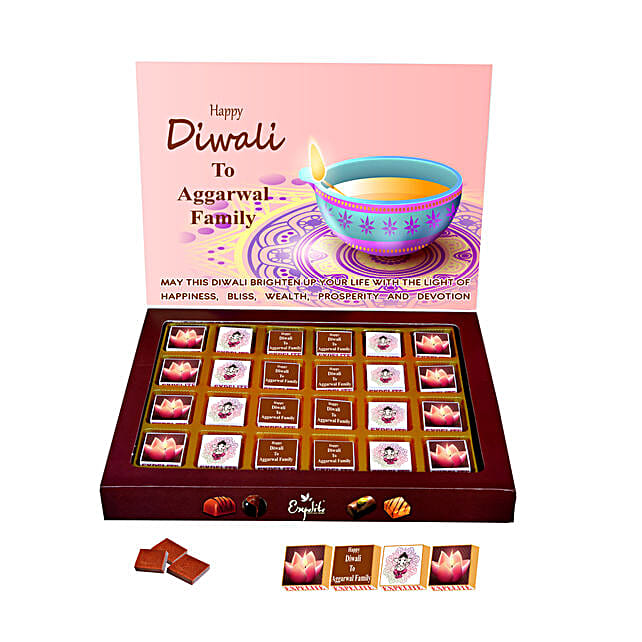 Be it your maternal or paternal family, Diwali gifts are bought for all. A handcrafted chocolate box that has their surname printed on the wrapper will surely make for a stylish gift. Chocolates are always the best gift and bring a smile to people's faces.
Impressive Bundle Of Bamboo Plant & More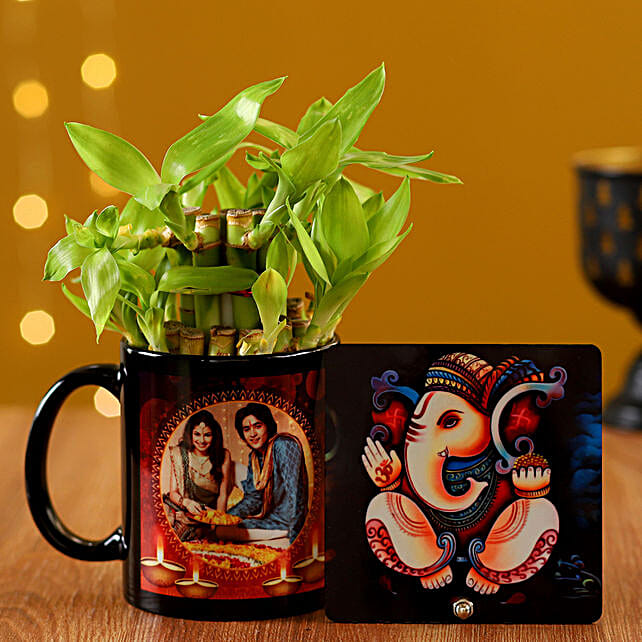 Bamboo plants are lucky, and a Lord Ganesha tabletop is an excellent Diwali theme gift. A personalised mug along with the former two will make for an extraordinary gift for celebrating Deepawali Apni Si with your friends and family.
Diwali Personalised Water Bottle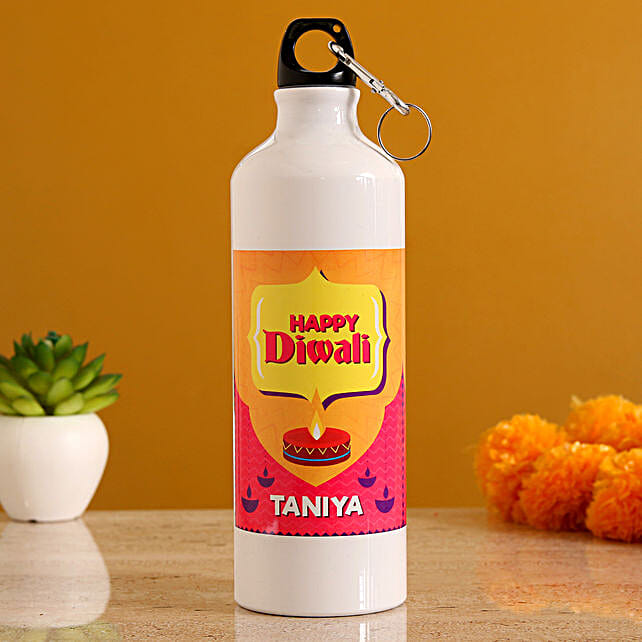 Gift a personalised water bottle to the gym freak in your family and make him feel that you care. The personalised bottle will have his/her name on it and a sweet Diwali message!
Superb Diwali Personalised Photo Frame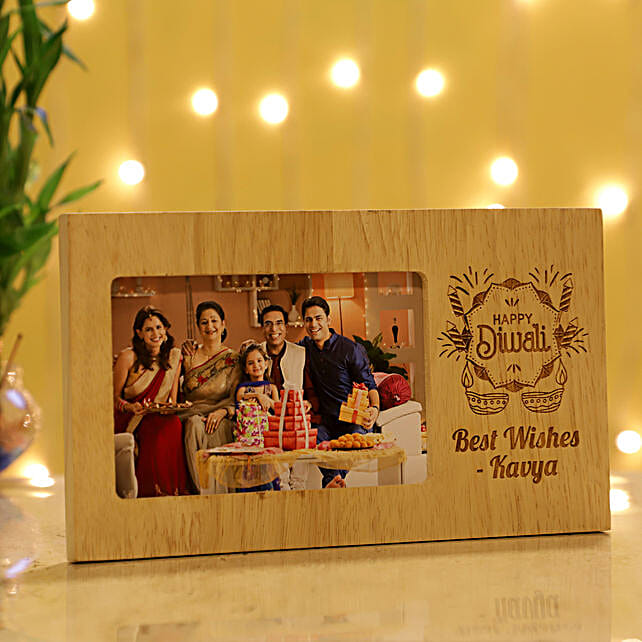 Pick the favourite picture of your family or friends and add it to the Diwali photo frame, and one of the best-personalised gifts is ready. Surprise your family with a photo frame, that they can always keep as a token of love from your side.
Shimmering Personalised Cushion & Lord Ganesha Idol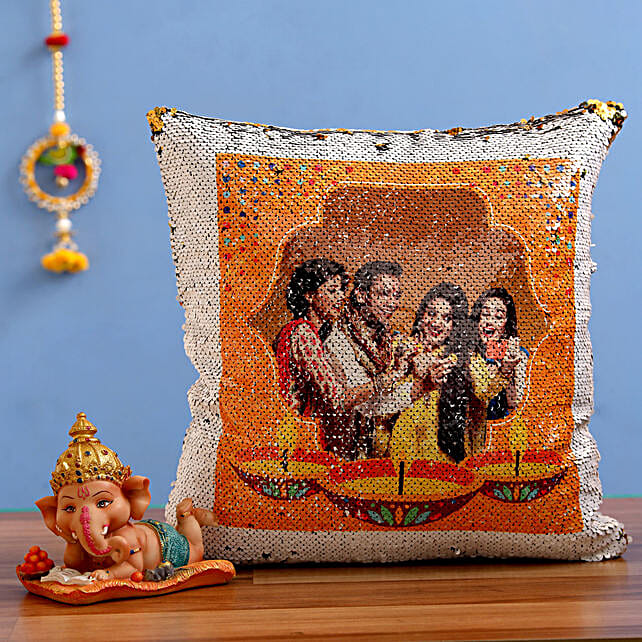 Add a picture to sequin cushions as they are in trend. Magnify its importance as well as look by your favourite picture. A personalised cushion with a Lord Ganesha Idol is an outstanding gift for your special friends and relatives.
Famed as the festival of lights and glee, Diwali is the most awaited festival. Make your fam bam jump with joy by these personalised Diwali gifts under Rs 2000! You can deliver these gifts by courier and enjoy Diwali by staying at home. Stay safe and remember to maintain social distancing on Diwali amidst the pandemic!