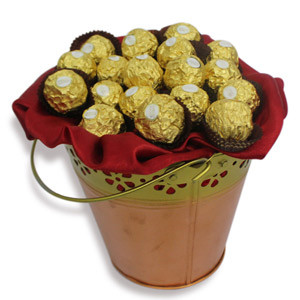 The easiest way some times is the best when to want to express the right amount of love with the correct amount of happiness and sweetness and for that chocolates come in handy. They may not be some of the most expensive but they pave the way of a delighted smile full of happiness that your loved one deserve. Whatever their age is we have chocolates for all of them, kids adults and even for the elder respected ones. Sometimes when even the most precious gift seems an awkward one chocolate does it's work just fine, because after all it's chocolate every one loves it. They are sweet; they are cute what more one expects a perfect gift to be more from this.
When you choose the way to the chocolate factory then you should make sure you are one the correct path along with the best friends, as we will make sure you some of the best options from which you can choose. The gifts range from the widest varieties as we have a lot to offer for you to make it just right kind of special. So why to wait even a moment when you know that the sweet ones will do their job and Ferns and Petals too of delivering it to the right place and at the right time to make every moment way beyond special?
You can reach out to us at the earliest by logging on to our website or paying us a visit on any of our local stores and then you can choose from some of the best collections of gifts that one has to offer. So here we there is no chance of delay when you chose to give them the best chocolates for the special moment.
We offer exiting deals and seasonal gift vouchers which are limited so you better hurry because you never know when you have the opportunity to make some of the best combinations of gifts which will surely be the best in their ways to carry you sweet feelings to your closest ones. Always remember that happiness is just at your doorsteps just a call or few clicks away. We deliver 24 hours, schedule at any time you want it to be delivered and we also deliver globally, so how much better it be. So you should better because every one loves chocolates so be the first one to grab it.