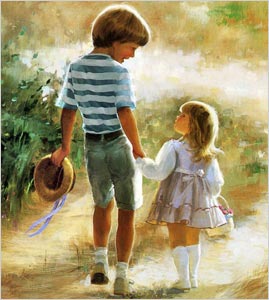 When emails and texts floating these days, I received a letter from my sister which I am going to remember for my lifetime and a letter which pushes my emotions to the extreme.
That letter opened many doors to the memories, which I have kept at the bottom of my heart for so many years. I remember how we fought and we patched up. We never said 'I am sorry', 'I love you' or 'I need you' to each other and there was no space for such words between us either.
We fought, we played, we laughed, we shared, and we cried together. No doubt, that was the golden period of our lives. We never thought that one day we will get separated, but we did, leaving behind all our fond memories. Rakhi is on 10th of August and I can't wait to see what my sister would do to surprise me, as we won't be celebrating it together this year.
Rakhi is just around the corner. Let's see what Ferns N Petals has in store, to make it a memorable one for all the brothers and sisters out there. Raksha Bandhan shopping at FNP is as simple as tapping a key. All the gifts have been designed by the gift experts, to convey the innermost emotions of the brothers and sisters in the most effective manner.
Where there is a love, there is no place for 'distance'.
Related Blog:
What Should I Call Him?
How to make a fresh flower rakhi
Rakshabandhan tales from Indian mythology