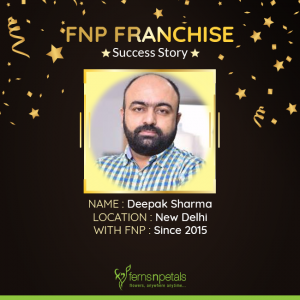 The scope of a franchise business is bright and in the coming years, it will expand as per the recent surveys and researches. Ferns N Petals is a renowned name in the field of franchise business with over 300 floral and cake franchise outlets PAN India. The reason we are so successful in our franchise model is that we provide all the training & technical support to the partner for them to build their retail outlet. So, it is really a great platform if you want to own your business. Continuing with our FNP Franchise Success Story, here is the second Success Story and this time we had a chat with Mr Deepak Sharma, the owner of 7 FNP franchise outlets within a tenure of 3.5 years. The oldest one is in Shalimar Bagh. It is really an interesting chat that you can read below.
Q: How long have you been associated with Ferns N Petals franchise business?
Deepak: It has been a great journey of 3.5 years with FNP franchise.
Q: Have you always wanted to be a businessman?
Deepak: Oh definitely Yes. I belong to a business family. My family owns an automobile business and that's why starting my own business was always an agenda.
Q: Before starting this franchise business, what else have you done?
Deepak: I used to work in various MNC's in various profiles.
Q: How did you come to know about FNP or who introduced you to FNP Franchise business?
Deepak: As a business minded person, I was always on a lookout for a promising business venture. As a family also, we were searching for options to expand our business and so explored a wide range of platforms. And finally, we agreed on to FNP.
Q: How much did you actually invest in this business?
Deepak: Umm….we have spent approximately 15 lakh for one retail store.
Q: How long did it take you to recover the investment?
Deepak: We took somewhere around 15-18 months with a focus on retail, B2B, and e-commerce business to recover our investment.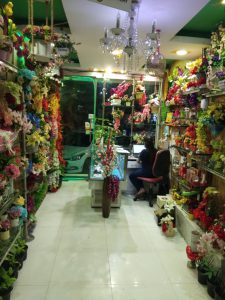 Q: Give a rough image of your current profit or income. Is that what you expected?
Deepak: We have expanded quite a lot in the past 3.5 years. Currently, we have 5 flower shops and 2 cake shops.
Q: What kind of support did you receive from Ferns N Petals?
Deepak: The FNP team has been extremely supportive all through our journey. Right from the documentation process to setting up the store, from training the staff to providing trained manpower – we have received endless support from FNP.
Q: Did the training provided by FNP help you in dealing with day to day challenges at work?
Deepak: Oh Yes, the superlative training by FNP helped us in many ways.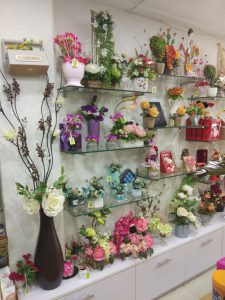 Q: How long do you spend in your shop?
Deepak: I at least spend 10-12 hours per day.
Q: How has your life changed with this franchise business?
Deepak: Well, life has become more synchronized on many levels. I personally have learned a lot from this creative business.
Q: Where do you see yourself in the coming 5 years?
Deepak: It has been a dream to be a shining star in the sky of gifting industry.
Q: Share one of the happiest moments that you or your team have experienced while serving a customer
Deepak: There have been several such happy moments which left a mark in my mind. One of the most special moments when an elderly couple walked up to the store to thank me personally for the wonderful service provided. They blessed us and at that moment was really precious.
Q: Share one of the weirdest demands that any customer has ever made to you
Deepak: Yes, there was one such moment I vividly remember. There was a newly-wed couple who demanded a gift hamper including condoms to be delivered to their hotel.
Q: Define Success in a sentence
Deepak: Every customer becomes our promoter.
Q: What would be your advice to those people who want to take up the FNP franchise model of business?
Deepak: I would like to say that FNP franchise business is really a great opportunity to grow and prosper. So, if you are serious then please grab this chance seriously.
Here are some glimpses from the Franchise outlets of Mr. Deepak Sharma.