It is common to clean, renovate, and decorate home before Diwali. As per popular belief, Goddess Lakshmi resides in a neat and clean home. To attract the benevolence of Goddess Lakshmi, people decorate their home with lovely Rangoli, bright lights, and décor items. Diwali is also the time when guests, friends, and relatives come home. A well-decorated home would convey a warm welcome to people and that is another reason behind decorating home with lovely Home Décor items. So, if you are thinking to get Diwali Home Décor Gift for your loved ones – it is a great idea.
Diwali is a happy and bright festival of lights and it is meant for everyone. So, when you would be wearing the latest designer clothes, jewelry, and accessories, why not your home? Say Happy Diwali to your home too and add these wonderful home décor items to the walls, floors, tables, or window panes! With a sensitive ear, you would hear "thank you" from your home and also see it smile!
Check these beautiful 7 Diwali Home Decor Gift Ideas:
Pink & White Artificial Flower Bandhanwar: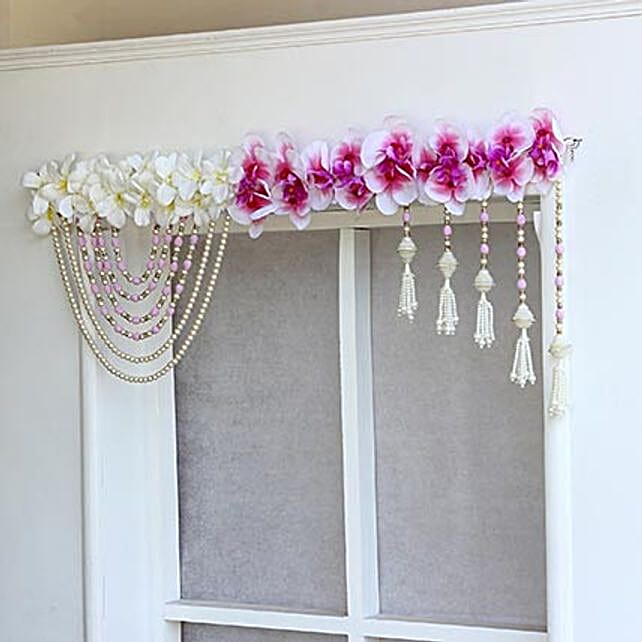 Bandhanwar is generally meant for the main entrance door. Thus, it should look gorgeous, elegant, and not at all over the top. This pink and white artificial flower bandhanwar is a perfect example of grace, beauty, and elegance in combination. As a Diwali Home Décor gift for your friends or relatives or for your own home – this would be a perfect pick. One may use it in the prayer room or the wall also.
Colorful Meenakari T Light Holder: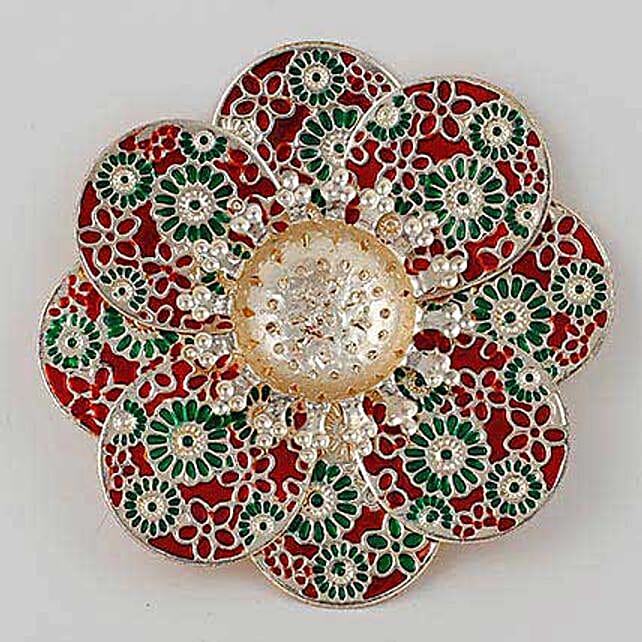 How long can grandeur and sophistication run? Well, they can run quite a distance and they look like this breath-taking meenakari t light holder. Meenakari has a long history and geography. It was imported to India in Varanasi from Persia around 17th Century. 17th Century means the prevalence of the Mughals and that's why you would see Meenakari art wrapping the glorious Mughal art and sculpture. In Persian language, Meena or Mina means the azure color of heaven. Let this Diwali reflect a brilliant history at your doorstep, center table, coffee table, floor, etc. with this meenakari t light holder. Surely, this Diwali home decor would be the showstopper of your home.
Feng Shui Mandarin Ducks For Love: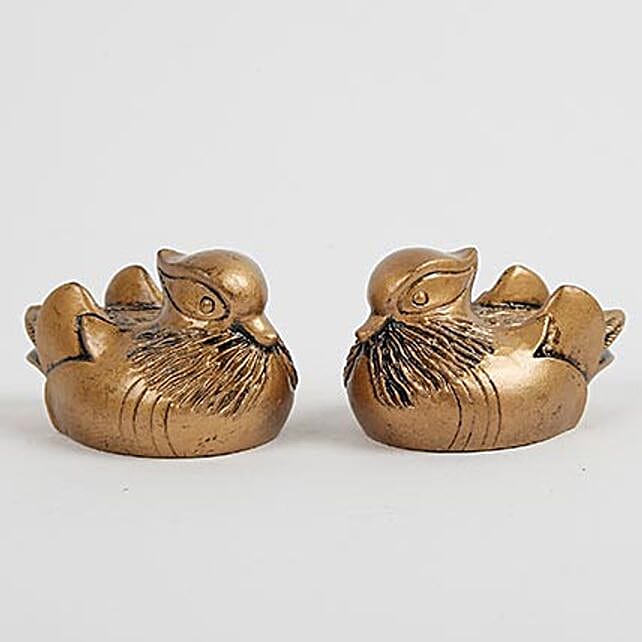 Feng Shui, the Chinese geomancy, is a pseudoscience that uses energy forces to harmonize an individual with its surrounding environment. These Mandarin Ducks are not only mere showpieces, but they are the symbol of love, romance, affection, care, and devotion. Mandarin Ducks are the most special water birds and are native to Asia. Their other names are: "The Far East Rainbow" and "Yin-Yang" Ducks. The most interesting fact about these ducks is that they mate for life and thus represent the symbol of eternal love. For your single friends and relatives, this would be not only a Diwali Home Décor gift but a sign of good luck too. They would soon find a prospective partner! You can also gift it to the couples whose relationship would continue to grow positively. 
Floral Evil Eye Wall Hanging: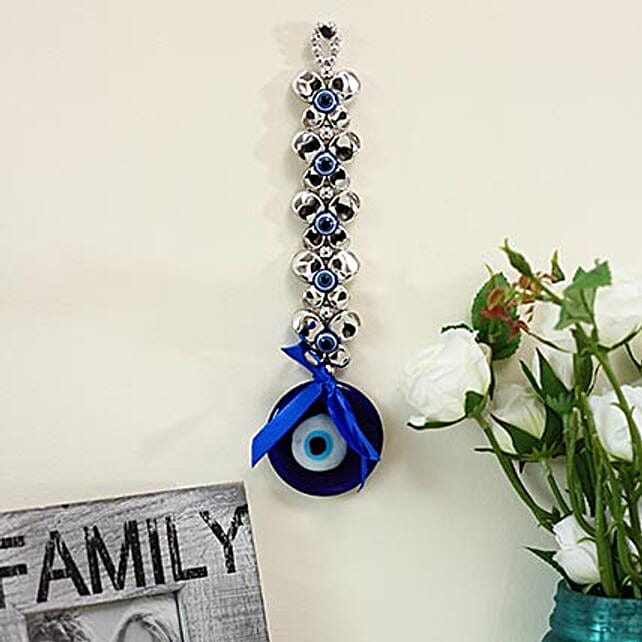 The Evil Eye and its history date back to ancient Greece & Rome almost 3000 years ago. People belonging to every country and religion of the world believes in this symbol and its strength. Some may call it a superstition and some believe in them rigorously. Evil means bad or negative and the eye is referred to look or the way one sees. Someone's "Buri Nazar" or evil eye may bring bad luck or suffering and to avoid or negate that evil eye wall hanging come to use. The evil eye is a look which clearly states that one intends for something bad to happen to the object of one's focus, either out of jealousy or pure malice. The superstition that people believe is that this malicious look is very powerful for calling disaster in a peaceful and successful life.
So, here is a floral evil eye wall hanging that would not only remove obstacles from your way but would attach a great décor to your space.
Premium Red & Green Stone Rangoli Design- Ready To Use: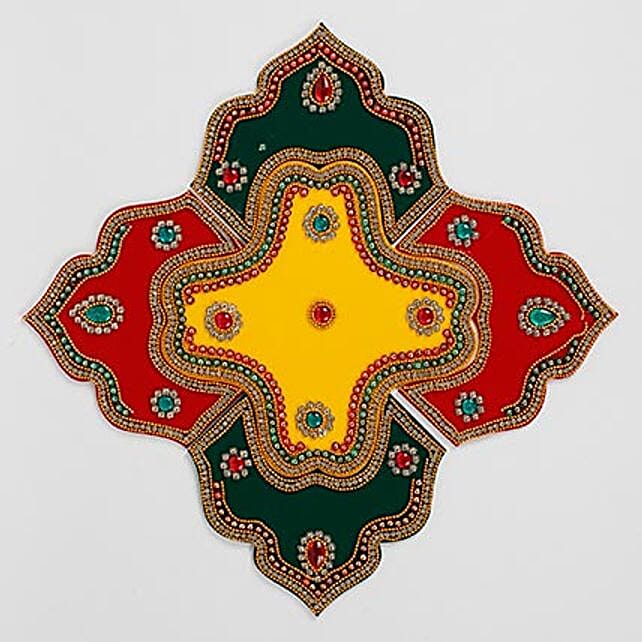 Making Rangoli design on the floor is a creative art. It is a popular art form all over India. There is a spiritual reason behind Rangoli designs seen on the courtyard of home. The most popular belief is that Rangoli wards off evil spirits and negative energies. Rangoli is an art form that is drawn using only thumbs and fingers without using any ruler or thread, or other instruments. As per Palmistry and Yoga, this gentle pressing of the tip of index finger and thumb exudes positive energy in the body that purifies the blood. Initially, people used rice powder, dry flour, and other natural colors to make Rangoli.
But using natural or artificial colors to make Rangoli is time-consuming and for those busy-bees who don't have time to deck up their homes with Rangoli, this ready to use Rangoli design is a perfect gift. These are separate pieces of Rangoli. One can either put them together as shown in the picture or can use these to create personal Rangoli designs. One can use these Rangoli design pieces with flower petals, Rangoli colors, diyas etc. to make different designs and make the home look beautiful.
Red & Green Crystal Candles: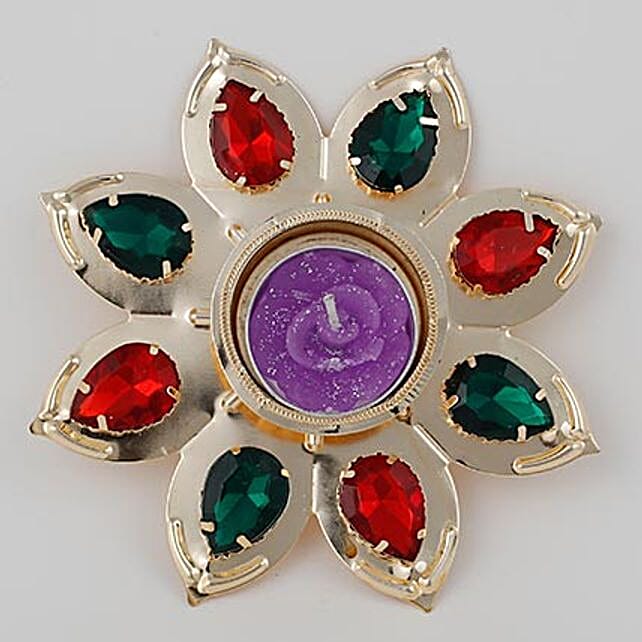 Diwali is the festival of light and thus any element of light would be a great gift idea for Diwali. Here is an innovative crystal candle that would be a perfect Diwali Home Décor gift for your friends, relatives, colleagues, employees, clients, etc. The bright red and green crystals are surrounding the candle at the middle and that is giving a flowery appearance.
The Feng Shui Running Horses: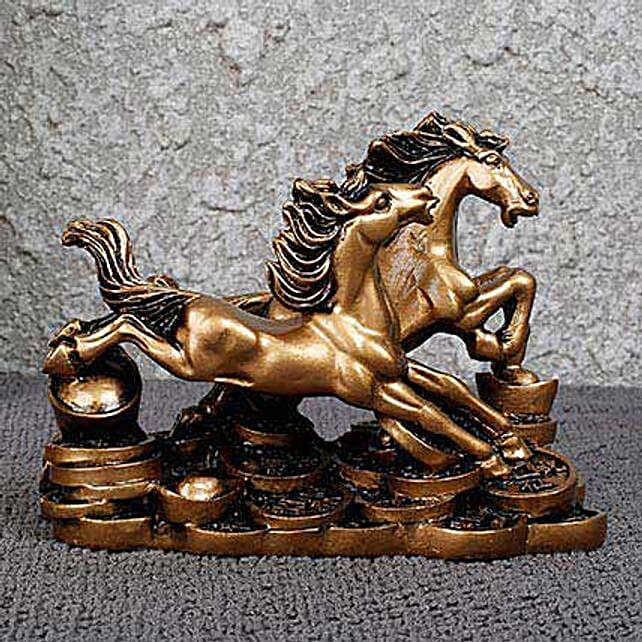 As per Feng Shui belief, a horse is the symbol of energy, success, fame, freedom, and velocity. A horse never runs backward and it is always running ahead with confidence. So, a horse show piece or image that shows the horse in motion helps in regaining focus and success. Resin is the primary material of this Feng Shui showpiece and it would bring immense luck and wealth on anyone. North, South, or Southwest are the most suitable directions for keeping this beautiful showpiece.
Hope you loved these amazing Diwali Home Décor Gift Ideas discussed here. Help yourself & your friends or relatives to deck up your own home with these beautiful items.
You Might Also Like:
8 Unique Diwali Gift Ideas For A Fabulous Celebration
The Top 5 Refreshing Green Diwali Corporate Gifts 2018
Post Diwali Pollution: Best Ways To Combat It With Air Purifying Plants