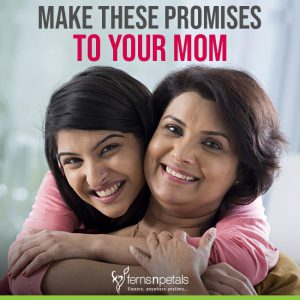 Someone has truly said, "Life doesn't come with a manual, it comes with a mom." Without her love, care, and guidance, it is hard to prosper properly. She is definitely the most important person in your life. Your mom is always there to boost your spirit and confidence. She is always ready with a resolution to all your problems. But she also carries a bag of complaints against you. So, this mother's day, you can actually work on those complaints and polish yourself a bit. Your mom would be very happy seeing this change in you.
Here is a list of 10 promises that you can make to your mom on this mother's day and become a better person.
Call Her Every Day:
The things going in a mom's head – "has he/she eaten breakfast?", "has he/she returned home late?", "is my child safe in that city?", "is something bothering him/her?". Basically, all through the day, your mom is thinking about you because she loves you and cares for you endlessly. Her heart actually skips faster when you don't pick up her calls. You can understand her thoughts only when you become a parent. So, the most important promise to make to your mom on mother's day is that "Mom, I will call you daily." Call her once, twice, thrice, or numerous times a day. Inform her that you will be late tonight. In short, stay connected and that ways she will also worry less about you.
Keep The Room Clean:
This is what your mom really wants you to learn asap! It is a bit difficult, but promise your mom that you will try to keep your room clean from now on. And work towards that goal seriously. She will be really very happy if you start living as per your promise. Use a weekend to clean your cupboard and the next weekend clean your study table. Start with baby steps and clean a segment of your room every week until this becomes a habit.
Eat Healthy & Live Long:
Like all other moms, your mom also yells at you for eating junk food like pizza, pasta, burgers, etc. While you are a teenager or a child – it is difficult to understand her logic. But as you grow up, you start to realize that she is right. Eating healthy doesn't mean that you have to stuff yourself with karela (bitter gourd), lauki (bottle gourd), or khichdi (porridge), etc. You can have all those fast-food but in a healthier version. So, learn those recipes from her and live a healthier and better life!
Talk To Relatives:
She complains to you about all her relatives. And the next moment you see her talking to these relatives in a sweet voice. In her terminology, this is "rishta nibhana" (abiding by relationships). She always teaches you to be nice, polite, and tolerant with the relatives. You perhaps don't like receiving the calls of your relatives or answer them on WhatsApp. But just for your mom's happiness, promise her this mother's day that from now on you will talk to your relatives frequently.
Spend Quality Time With Her:
Everyone is busy in their lives. You also have tons of work to complete but amidst all these try to spend quality time with her. For example, when you return home, try to keep yourself away from your laptop and phone and talk to your mom about her routine, her office, her new recipe, etc. On the weekends, go out with her – eat outside, watch a movie together, or go to the art exhibition, etc.
Express Your Love For Her:
A mom is the engine of a home. If you say that on a Sunday you have planned a picnic with friends and need to move by 5 A.M., then, she will wake up by 4 A.M. so that she can prepare some food for you. She patiently waits for your return at night so that she can serve you food and talk to you. A mom is like that only – she is always full of love, care, and compassion. But do you thank her much? This mother's day, promise yourself and to your mom that you will always express your love for her.
Inspire Her To Cultivate Her Hobbies:
With the flow of time and to invest time in the family and juggling with office projects, perhaps your mom has forgotten her hobbies. So, this mother's day, inspire her to cultivate her long-forgotten hobbies. If she wanted to pursue dancing at some point in her life but couldn't fulfill that desire back then, admit her to a good dance school now and let her learn some moves. If she wanted to learn guitar, get her a guitar and make sure she attends her classes.
Plan Your Finances Well:
Money never comes easily. You always have to work hard to gain it. Therefore, stop the habit of spending so much. There are of course desires, dreams, and passions that make you spend without caring much. Moms always lecture "save your money – it will help you later". She is right. She is not asking you to sacrifice your lifestyle but she hints on a proper budget and planning. If you look closely at your expenditure, you may see there are many things that you bought just out of haste and that thing is lying idle at your place. So, this mother's day, promise her that you will plan your finances. You never know what is in the store tomorrow and thus some money savings would help you in challenging situations.
Give Her A Day Off Once A Month:
You seriously don't need the official Mother's Day to make her feel special because every day is simply impossible without her. So, make it a habit to give her a day off from all her domestic duties once or twice a month. Promise her that this mother's day. Cook her favorite dishes on that day, decorate the home a bit, or take her to the spa, etc. In this process, you will also learn many tactics that are required to run a home.
Travel With Her Once A Year:
Traveling is always amazing. Just the way you need a break from your office and mundane life, your mom also needs that break from all the routine life. Make her your travel buddy and go somewhere to the beaches, mountains, or islands. There are plenty of options in India like the Andaman, Gangtok, or Shimla weak here you can create some wonderful memories together. While on a trip, you will see your mom too in a casual and fun mood where she won't stop you from roaming around here and there or won't scold you for ice-cream or junk food!