Raksha Bandhan is on 26th August 2018 and you must be busy these days calculating the guest list, finalizing the menu, and renovating or re-decorating the home. What about the rakhi shopping? Obviously, you must be doing that too. To help you a bit for your lavish Raksha Bandhan shopping, here is a list of 10 of our best designer rakhis. First of all, have a nice look at these Designer Rakhis, Ethnic Rakhis, Gold Rakhis, Lumba Rakhis, or Kundan Rakhis and then place an order. You would fall in love with these awesome rakhi designs. We assure you a hassle-free delivery right at your doorstep.
Shining Blue Peacock Rakhi: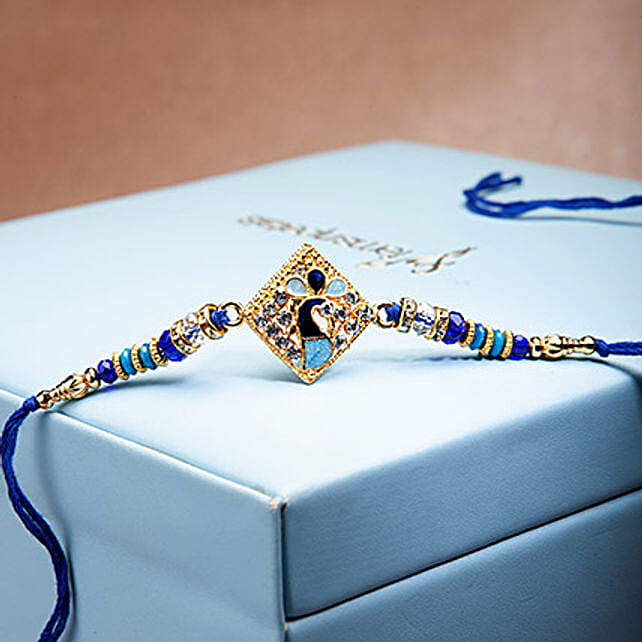 Peacock is our national bird and it symbolizes spirituality, awakening, vision, guidance, and protection. In our Hindu culture, a peacock is generally associated with good luck, patience, and kindness. This blue colored shining peacock rakhi is one of our best designer rakhis. The rhombus-shaped central dial is exuding brilliance with glittering white stones. Sky blue and royal blue beads are adding that extra charm to this rakhi. Blue is a color of peace and friendship and thus you must order this rakhi you would raise a toast to your friendly relationship with your brother. Therefore, tie this rakhi on your brother's wrist and enhance the love and friendship in your relationship.
Super Bro Rakhi: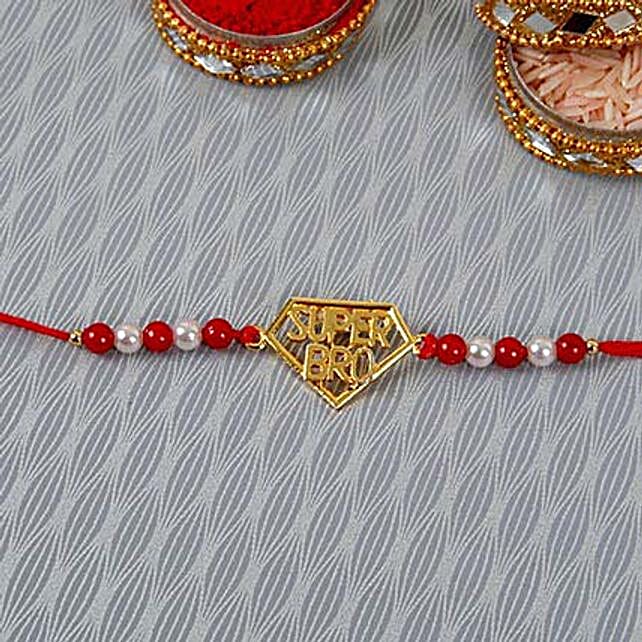 This rakhi is called "Super-Bro" Rakhi. The central design of this Rakhi is the logo of Superman and Super-Bro word is written on it. The cute red and white beads are attaching glamor to this Rakhi. In case your brother has the super qualities just like the Superman who is always ready to help others in need then this Rakhi is for him. If he is very protective towards you and for all small to big problems you always find him the best "to go" person then you must buy this designer rakhi for him.
Antique Swastika Rakhi: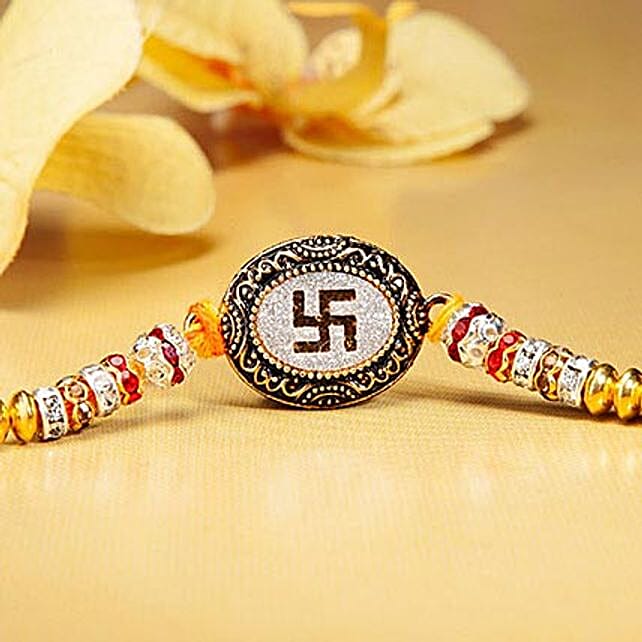 Antique Swastika Rakhi is a shining rakhi from our range of Ethnic Rakhis. It has an antique finish and that attaches a wonderfully nostalgic look to this rakhi. The prime USP of this product is the Swastika symbol right at the dial of the rakhi. This word Swastika comes from the Sanskrit word Svastika and that means "good fortune". This is a holy symbol not only in Hindu culture but also in Buddhism and Jainism too. This symbol refers to well-being and prosperity. Thus, to start anything new, you would see the use of this symbol. So, to shower some good luck in your brother's kitty, you must get this rakhi for him.
Green Leaf Om Rakhi: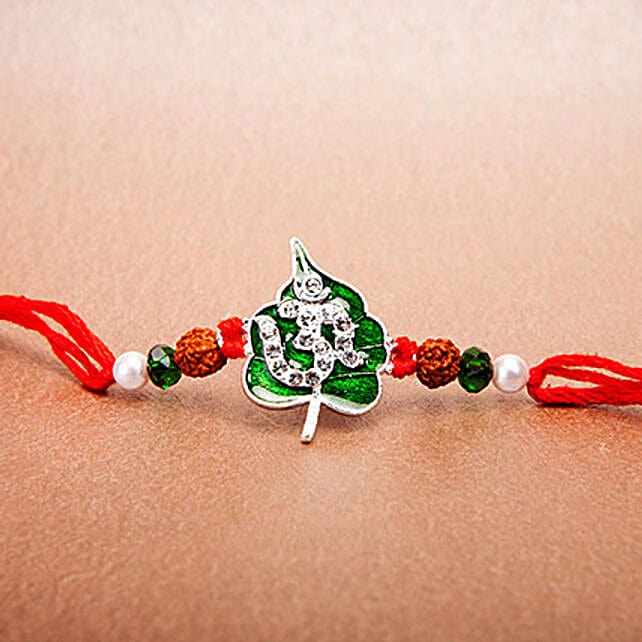 This is another thrilling ethnic rakhi from our store which looks ravishing. A green leaf design serves as the central dial of this rakhi. The symbol of OM is written in Hindi using glittering white stones on this green leaf. The rest of the rakhi showcases green, white, and Rudraksha beads. In our Hindu culture, OM is the most spiritual world which refers to a perfect balance. While uttering the word OM 432 Hz frequency of vibration is created and this is the same vibrational frequency found throughout everything in nature. So, usher some good luck, confidence, focus, and well-being on your brother by presenting this rakhi.
Large Kundan Rakhi: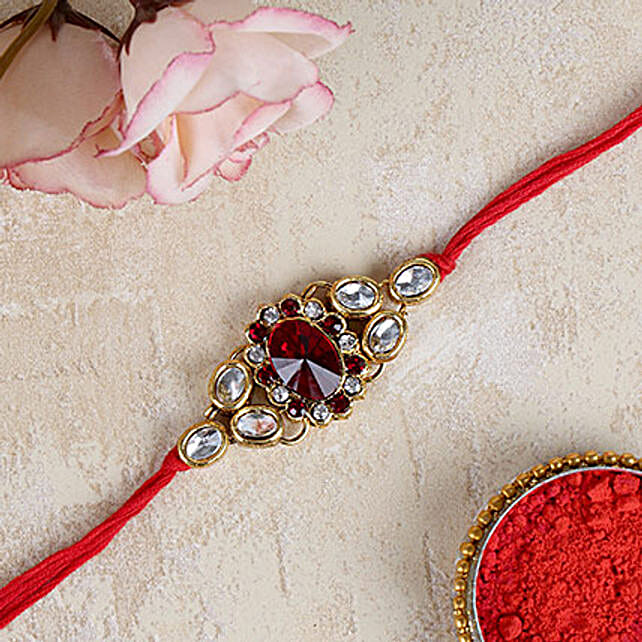 If you are looking for a thoroughly embellished rakhi to greet your brother then this Kundan Rakhi would be your best pick. The extremely beautiful rakhi has a large Red Kundan right at the center. It also has green and white glittering stones surrounding the Red Kundan. Moreover, white Kundans in dewdrop shape are also used in the circular form which is attaching a flower kind of look to this rakhi. Red, golden, and green beads are adding much shine to the rest of the Rakhi thread. Add grandeur to your Raksha Bandhan festival by ordering this immensely beautiful Kundan Rakhi.
Elegant Kundan Drops Rakhi: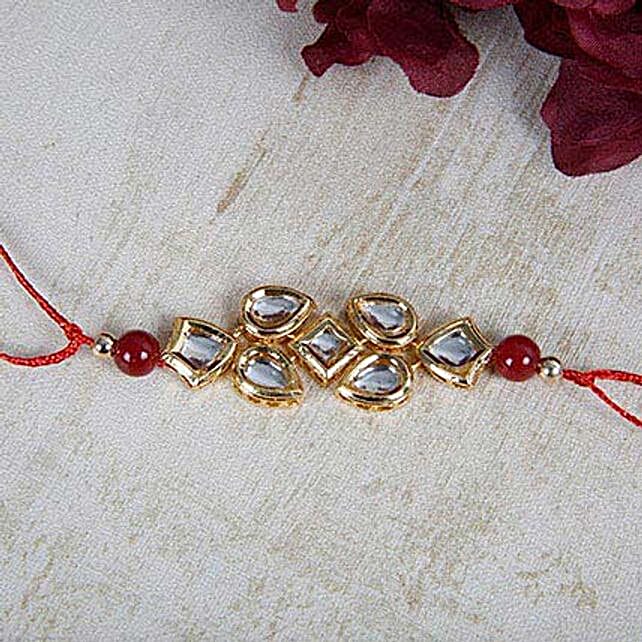 The white Kundan drops are the prime USP of this Ethnic Rakhi. Your brother would simply love this nice and elegant rakhi design. There are two red beads at both ends to create a beautiful color contrast. This rakhi would also serve as a bracelet for your brother. Using it with traditional dresses as a bracelet would be a cool yet sophisticated style statement. Therefore, you must buy this lovely designer rakhi for your brother!
Dharma Chakra Gold N Diamond Rakhi: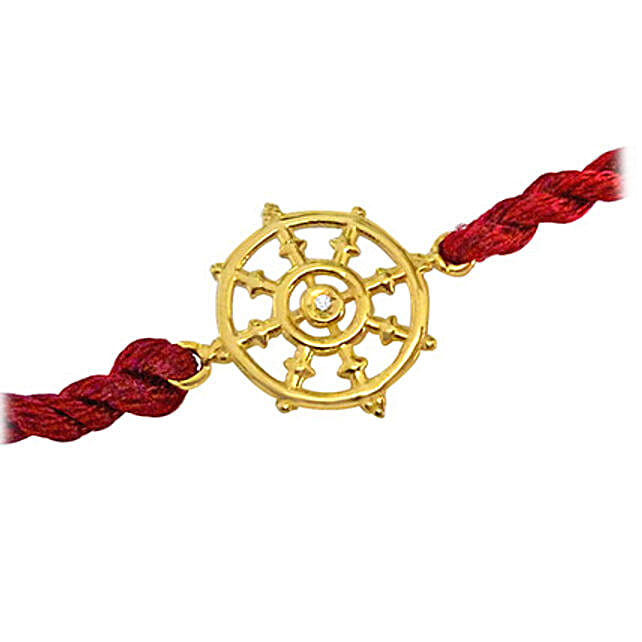 From our segment of designer rakhis, a Gold Rakhi would be a great pick. The design followed in this Rakhi is a Dharma Chakra that is a belief in Buddhism. This Dharma Chakra is the Wheel of Dharma which has three parts. The first is the Hub which refers to the training of moral disciplines, the second part is the Spokes which signifies correct implementation of wisdom, and the third part is the Rim that means concentration. As this Dharma Chakra is one of the 8 Auspicious Symbols of Buddhism, you can buy this rakhi to enhance good luck in your brother's life.
Multicolor Stone Bangle Rakhi: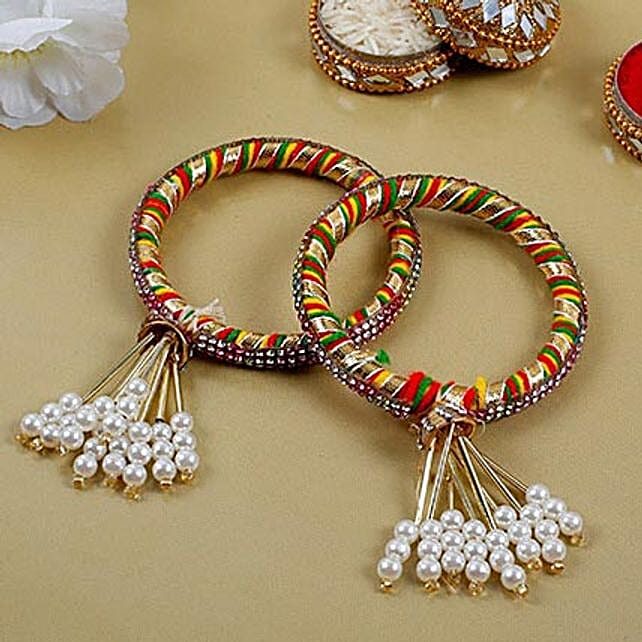 Do you remember that you have to shop for your bhabhi or sister-in-law too? In our Indian culture, there is a tradition of tying a Rakhi thread on the wrist of a bhabhi too to strengthen the bond of love and friendship with her. This is a wonderful multicolor stone bangle rakhi that you can buy for your bhabhi and greet her on this auspicious day. The white beads as latkans below the bangles are adding a lovely charm to it. Your sister-in-law may use this even after Rakhi festival as a decorative bangle with matching multicolor clothes.
Stylish Kundan Bracelet Lumba: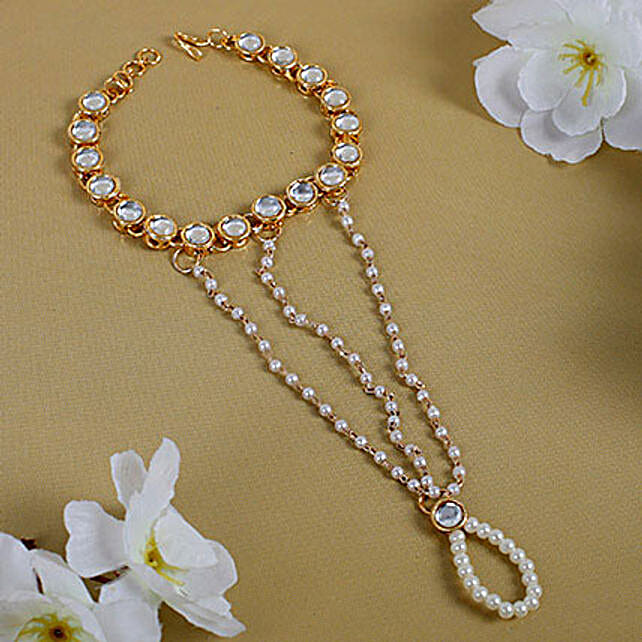 This is an extremely gorgeous and stylish Kundan Bracelet Lumba Rakhi which sister-in-law would simply adore. More than a rakhi, this would work as a jewelry. This rakhi would make the hand of your bhabhi look gorgeous, sophisticated, and elegant. The white and shining Kundan stones are just adding the perfect glitter to this rakhi. This is undoubtedly one of our best designer rakhis. So, embrace more love in your relationship with your bhabhi by ordering this rakhi.
Personalized Sibling Love: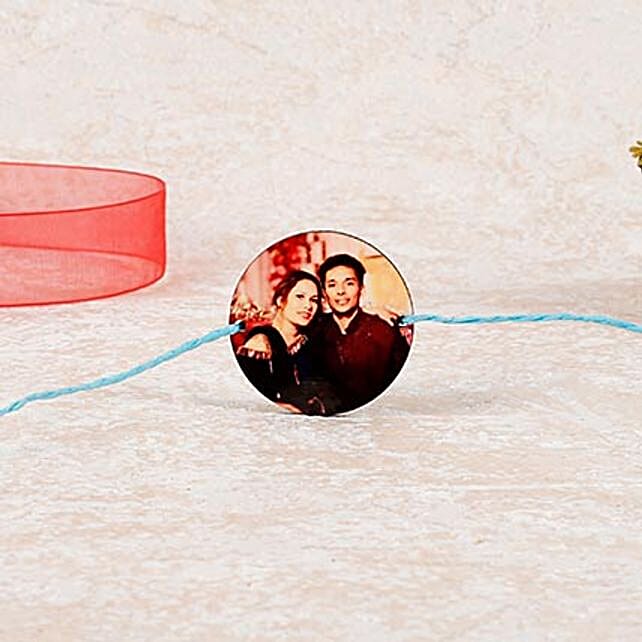 Any personalized gift is a special treat. The reason is the inclusion of a lovely picture and the name of the gift receiver. To get a personalized rakhi, you can send us a high-definition image of your brother alone or an image featuring both you and your brother. The dial of this rakhi would be this image and it would be a great style statement!
Hope this list of designer rakhis would help you in your rakhi shopping this year. Therefore, pick up your favorite designer rakhis from these beautiful display and make this Raksha Bandhan a sweet memory!
You Might Also Like:
5 Different Types of Rakhis That You Can Buy Online
Best Rakhi Gifts for Brothers- Strengthen the Sibling Bonding
Rakhi Gift Ideas For Married Sisters