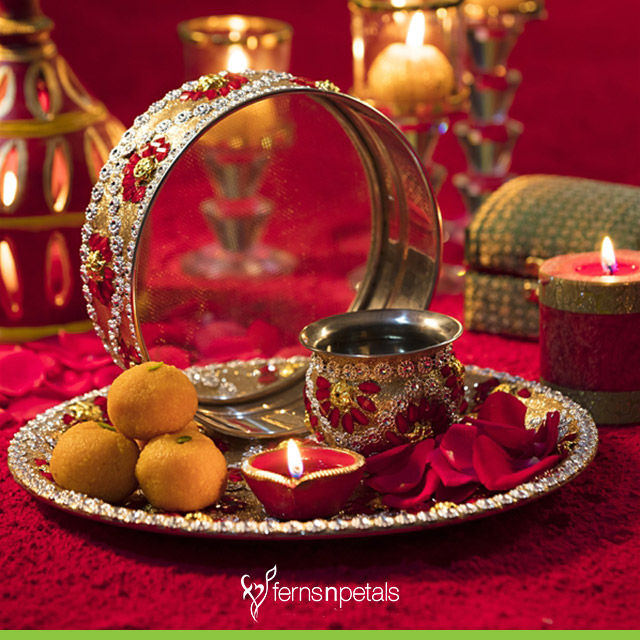 India is a land of festivals. Celebration is a way of life here as for every season and reason, there is a festival. Many of our festivals include fasting. Karwa Chauth is one such festival that is observed mostly by the married women in India. They pray for the well-being of the family and the longevity of their husband's life. The importance of fasting is unanimously accepted but no nation has it more deeply entrenched in its culture than India. People from all cultural groups and faiths fast basically for two reasons – one, as a reparation to clean their wrong deeds and two, as a token of devotion to the almighty. Our Ayurveda says that the Karwa Chauth fast is more than just praying for the long life of the husbands. The benefits of Karwa Chauth fasting are listed below:
Fasting has a positive effect on the brain. New neurons shape up with Karwa Chauth fast and they improve the functioning of the brain and also provides more clarity. Thus, fasting improves Smriti & Dhriti.
The channels or strotas on a human body that carry nutrients throughout the body are clogged with ama or undigested food. Fasting removes these toxins and promotes a better health.
With fasting, there is a generation of new white blood cells replacing the older ones and this gives a new and better immune system.
If you are keeping this fast for the first time, people all around must be prepping you up for that big day. So, you need to know some health tips in order to sail smoothly during the day. Here are some health tips that you must abide by to stay healthy and fit during the daylong fast.
Try to avoid too sugary things while you are eating before sunrise. If eating that sugary item is mandatory, then just limit yourself to a tablespoon. Actually, sweet food items tend to aggravate the hunger pangs later. Have high protein food like Paneer instead.
Consumption of dry fruits or nuts like almonds, dates, figs, pistachios, raisins, or walnuts would be a good idea. These dry fruits would store energy for the rest of day because they have essential fats and high protein. They also lower down the cholesterol.
In the morning while having sargi, have lots of fruits like papaya, banana, berries, pomegranate, apples etc. Fruits have essential fiber that would keep you energetic all through the day.
You should drink 2-3 glasses of lukewarm water because warm water absorbs fast in the body and reserves the sargi.
Please avoid oily and fried foods like chips, paranthas, or pakoras in the morning. These oily and fried food items are very heavy and can make you feel dizzy. You may opt for multigrain rotis, vegetables, paneer, etc.
Having tea or coffee would make you feel dehydrated later and that's why you should avoid them. Replace tea/coffee with fresh fruit juice, milk, or buttermilk. In fact, you can start your day with a cup of green tea or fresh amla juice because they have antioxidants to keep you fresh and energized all through the day.
Now, when you are breaking your fast, have less spicy or light food that has a good amount of carbohydrates and proteins. These would help your body to replenish the lost energy.
Before you go to sleep, have 3-4 glasses of water or juice or lemonade. This would help your body to remain hydrated.
Last but not the least, try to keep yourself distracted from food or thought of food. Listen to music, enjoy a spa session, and relax with friends and family members. Engage yourself in low energy works and stay healthy!
A Special Note to the Doting Husbands:
As your wife is fasting on Karwa Chauth, so try to take the day off. Spend quality time with her and plan some sweet little surprises for her so that the tough fasting session becomes entertaining for her. Plan online gift delivery every 3 hours or play gift hunting game with her. You can take her out for a relaxing spa and after the moonrise, you can take her out for a romantic dinner date. If this is the first Karwa Chauth, then you must get her some expensive jewelry items – nothing can beat that appeal!
You may also like :