Making a special note of recent announcement, India's one of the leading florists and event management companies, Ferns N Petals has launched an exclusive collection of elegantly embellished rakhis. On this Raksha Bandhan, the company has come up with diverse varieties of rakhis, which have been arranged totally on the basis of one's customization and personalization needs.
Rakhi festival is a traditional Hindu festival that celebrates a chaste bond of love between brother and sister. Banking on the significance of this day, the company has launched some exclusive gift hampers, which have already come out for sales.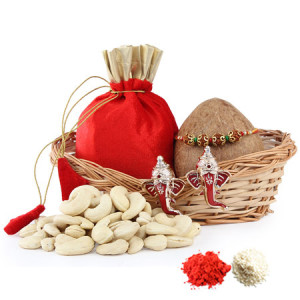 Included in the list of wonderful gift items are an assortment of delicious chocolate, dry fruit and sweet packs, which will make this Raksha Bandhan more delightful. In an urge to fulfill the customers demands and preferences, the new range seems to focus on customization and personalization. However, if a brother and sister residing miles apart from each other cannot meet, the company is rendering a reliable of online rakhi delivery and that too worldwide.
Ferns N Petals assures of delivering rakhis and gifts at a desired destination within a stipulated time-frame with no issues of hindrance. To give a personal touch to the gifts, the company is rendering a facility of customized packaging taking a note of an emerging need of personalization.
Taking into consideration low prices and emerging trend of online shopping, the company has unveiled some of the exciting surprises which are noticeable on the website's Raksha Bandhan section. Romantic and hearty tiles are given to each product and great offers on multiple items are available on the site. Rakhi with Sweets, Rakhi with Chocolates, Rakhi with Dry Fruits, Exclusive rakhi treat and Chocolates Potli are some of the cherishing names given to the products.
The awesome offers available on rakhis and gift hampers are a significant reason behind Ferns N Petals products selling as hot cakes. Pick and choose from a variegated array of mesmerizing decorated rakhis and send it to your loving and naughty brother and wish him a very Happy Raksha Bandhan.
Related Blog:
Distance Doesn't Matter
A Relation With Different Names
Letter For My Lifetime – From My Sister