Author: Rima Ghosh
We all are habitual of wearing heavy woolen clothes, wrap two blankets, and step out fully covered in the month of January. Unfortunately, the cold waves have taken a sabbatical as per reports suggested by NASA. In 137 years of modern data keeping of climate change, January of 2017 has been ranked third during the calculation of the global January temperature by NASA.
Recently, NASA's Goddard Institute for Space Studies or GISS in New York came out with their extensive report on global climate change and this is a serious issue concerning every creature of the world. Reports say that January temperature was 0.20 degrees Celsius cooler than the warmest January in 2016 but it was also 0.92 degrees Celsius warmer than the mean January temperature in the year block of 1952-1980. GISS collected data from 6300 meteorological stations from around the world to conclude this result.
If compared with yesteryears, 2016 was the warmest in recent times as it was 1.12 degrees Celsius warmer than mean January temperature. It is closely followed by January of 2006 which was 0.96 degrees Celsius warmer. So, our current year stands third after these two. Well, it is definitely not a rat race and we are not at all happy in this warm cocoon of January as it is not natural.
One may call it a forced natural calamity but we have done so many hazards to Mother Nature that she is angry with us and these abrupt climate changes are an after-effect of our modern lifestyles. Our lifestyles would keep on changing and there is no second thought in that segment. But, in a span of just 11 years, this is the third time, we are facing an abnormal muggy climate and this is quite an alarming situation for the upcoming times.
To naturally reduce this damage, we all should take measures on an individual basis. On a large or small level, if we all start treating the Nature in an orderly manner, we can cover up the holes created by us. You can have a look at the simple measures in the link mentioned below and start an organized living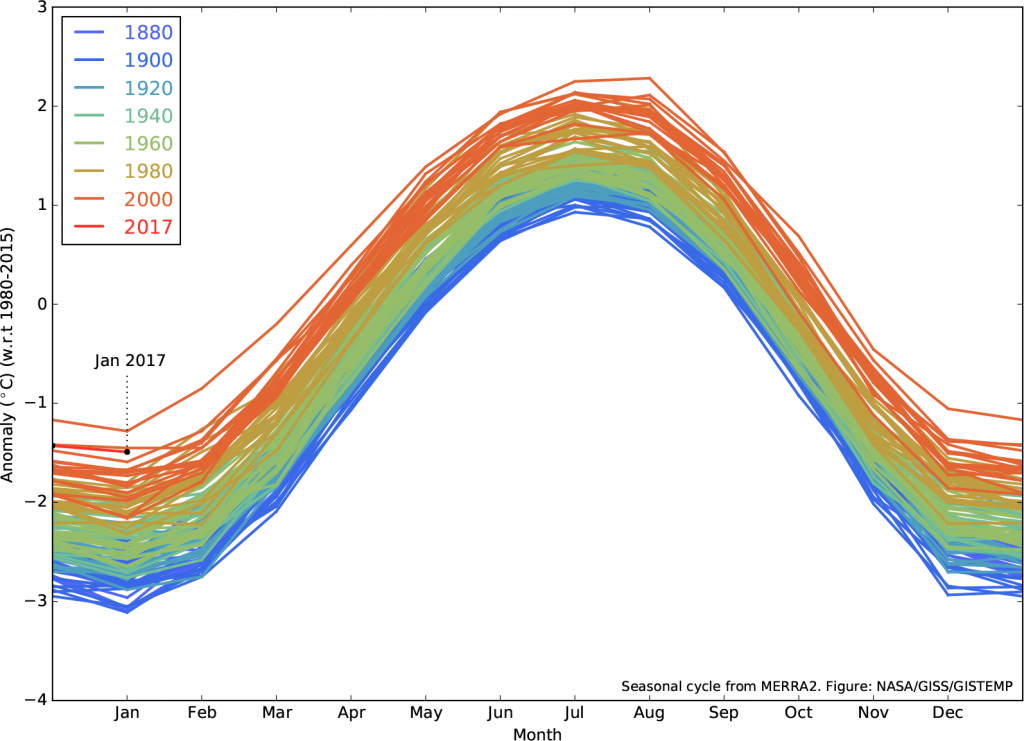 Source: Climate.Nasa.Gov
You May Also Like:-