What happens when a surprise is sprung on you? You tend to feel happy and excited. The feeling stays with you for a long time. The better the surprise, the bigger the smile. With our awesome car boot décor surprise ideas, you can make your loved ones scream with joy and make their special occasions grand. Capturing the perfect surprise look on their faces will give bring you immense joy and satisfaction.
Here is a list of our amazing car boot décor services that you can avail online to wish and surprise your dear ones on special occasions. 
Car Deck I Love You Décor
Whether it is your anniversary or you are planning to propose the love of your life, this grand gesture will seize the day with a smile. Propose your lady love in Bollywood style by getting your car boot decorated with cute balloons and a foil balloon that says 'I Love You.' Accompanied by a bouquet of roses, the awesome decoration will mesmerize your girl. You can take your girlfriend for a long drive then stop the car somewhere in the middle and ask her to get something from the car boot. The moment she opens the car boot and sees the surprise, the magic will start to happen at the very moment.
Birthday Surprise Car Boot Décor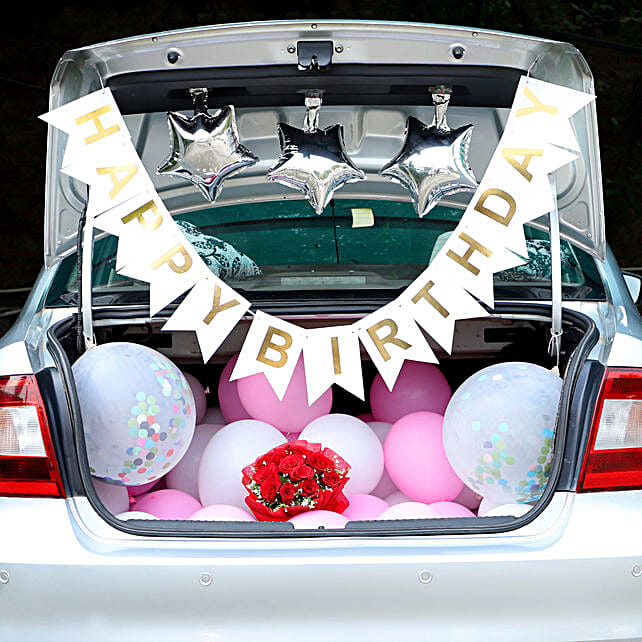 What is the best birthday surprise that you have given to date? Showed up to your friend's house with a birthday cake at midnight? Or surprised your beloved with romantic roses and gifts delivery in the middle of the night? It is time to take your surprise game a notch higher with our birthday surprise car boot décor service. We will decorate your car trunk with lots of balloons and a 'Happy Birthday' banner. You can take your friend, beloved or a family member on a drive at midnight. Right when the clock strikes 12, you stop the car and ask them to open the boot of the car. The car trunk filled with balloons and birthday banner will surprise them to the core and make them smile. 
Starry Sorry Car Trunk Décor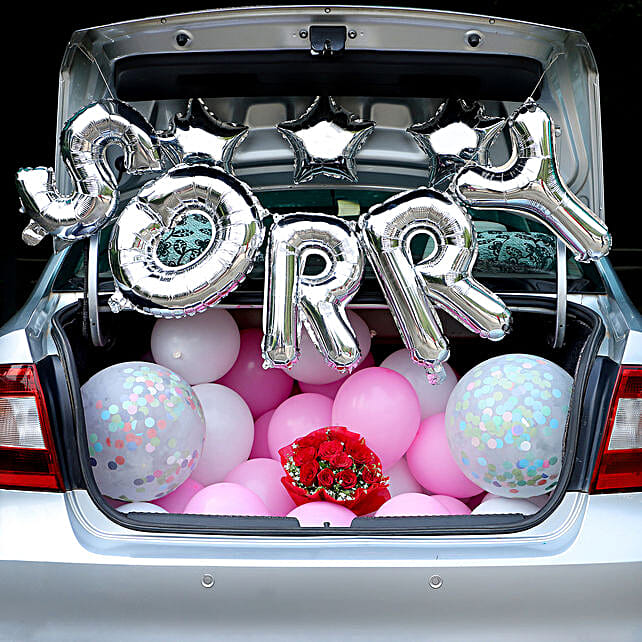 Acknowledging that you did something wrong and apologizing for it is the first step towards making things better. But it is important to make someone believe that you are really sorry for hurting their emotions. Apologizing by making big gestures never go unnoticed. Just like our starry sorry car trunk décor service that includes 'SORRY' alphabet balloons and other colorful balloons. Expressing your apology with a flawless car boot décor will touch your loved one's heart and show that they matter the most to you.
These happy surprises on wheels will spell out the message of your love in an incredible way and make your loved ones smile like never before.