As the Rakhi season swings around, there's an unsung hero of this festival who deserves the spotlight – your foodie sibling! While the threads of Rakhi hold this bond together, it's the flavours and treats that truly make this day special for those who live culinary adventures. So, let's dive into the world of Rakhi gifts for foodies that will tantalise their taste buds and add a delicious twist to this cherished celebration.
Sneh Rudraksha Holy Rakhi & Kaju Katli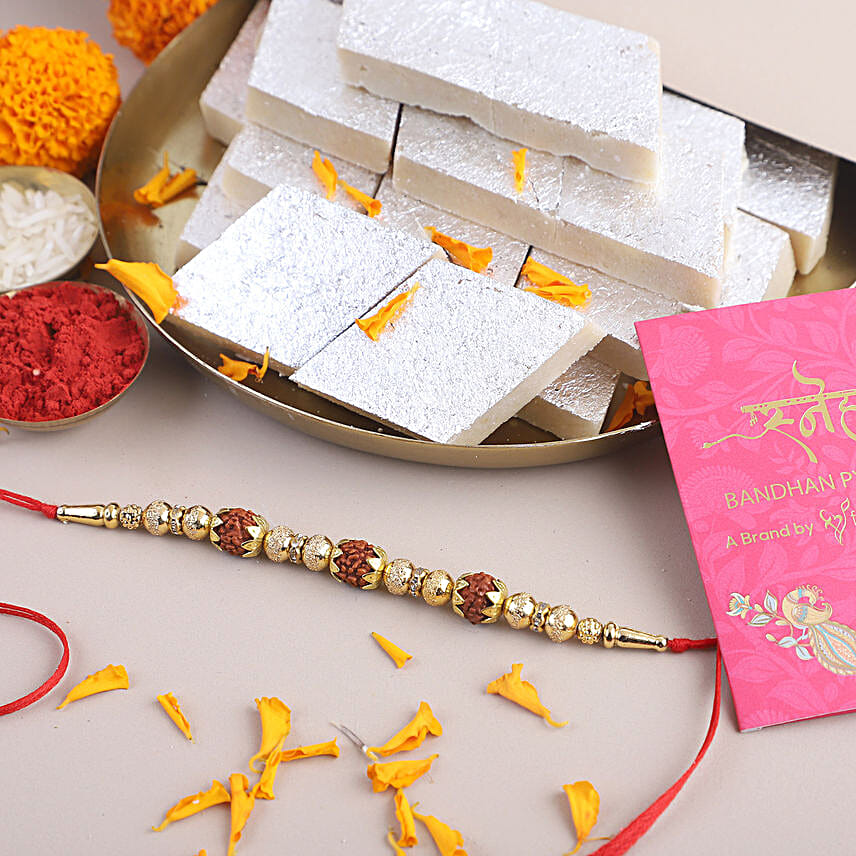 This beautifully crafted Rudraksha Rakhi is not just an emblem of tradition but a token of your love and blessings. Accompanied by the melt-in-the-mouth goodness of Kaju Katli, it is a delightful combination of flavours and spirituality.
Sneh Meenakari Peacock Rakhi & Kitkat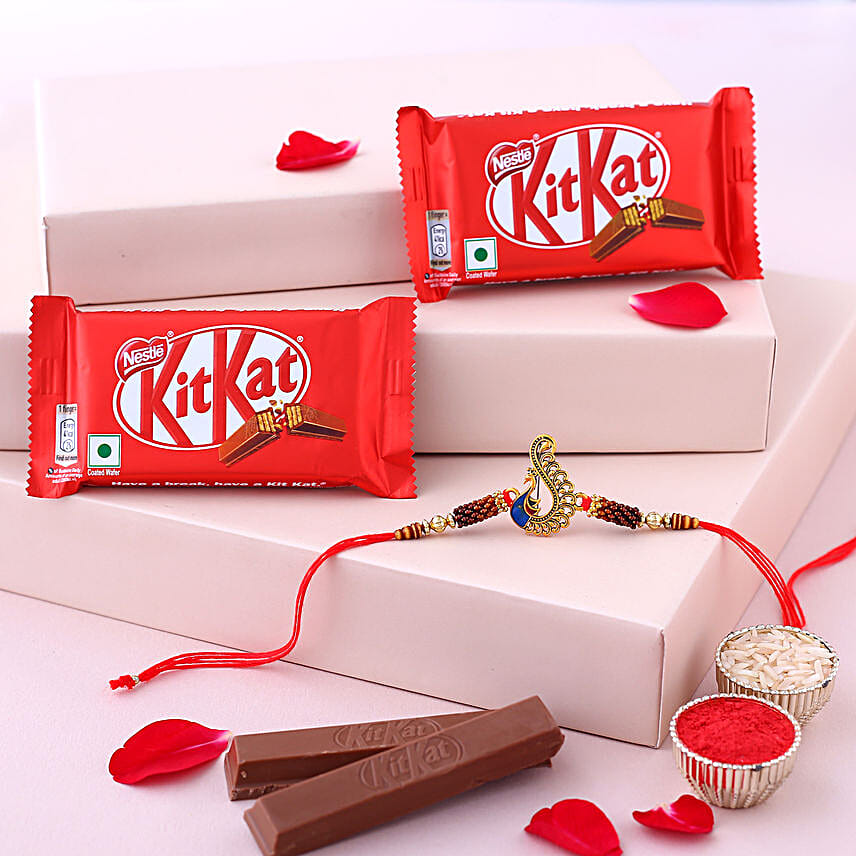 For the sibling who has a sweet tooth, the Sneh Meenakari Peacock Rakhi paired with a collection of KitKat bars is a match made in dessert heaven. It's a gift that will not only charm their eyes but also their taste buds.
Sneh Meenakari Rakhi & Gulab Jamun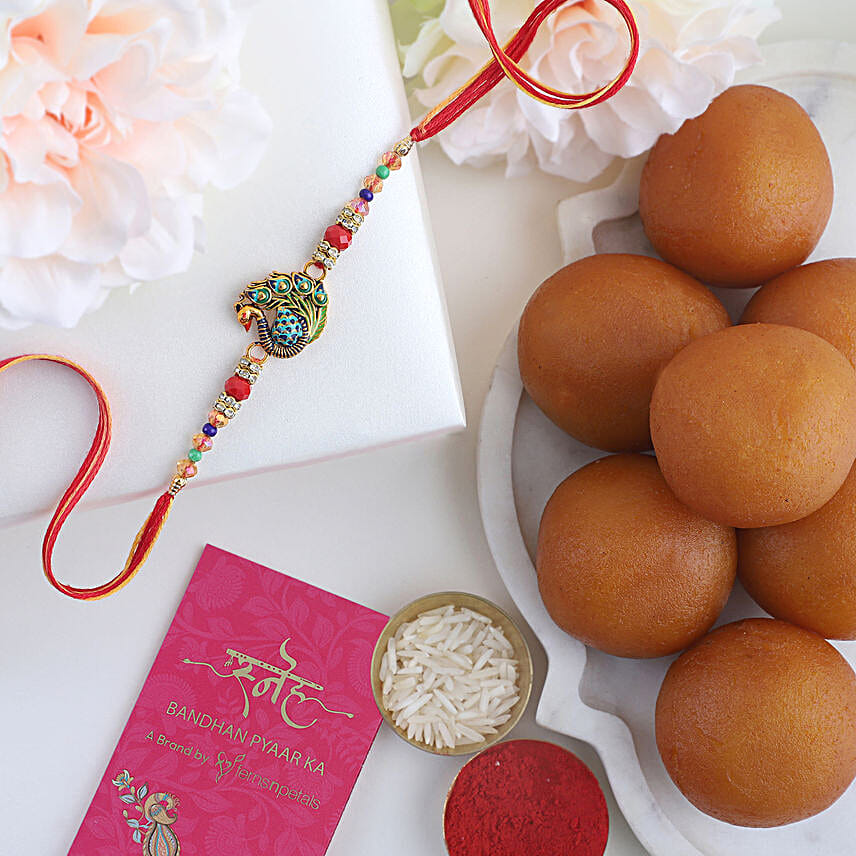 Embrace the rich Indian culinary heritage with the Sneh Meenakari Rakhi and a box of delectable gulab jamun. The Meenakari Rakhi is a work of art, showcasing exquisite craftsmanship and detailing. Paired with the classic delight of Gulab Jamun, it's a gift that encapsulates tradition and taste in one delightful package.
Basket Of Love for Raksha Bandhan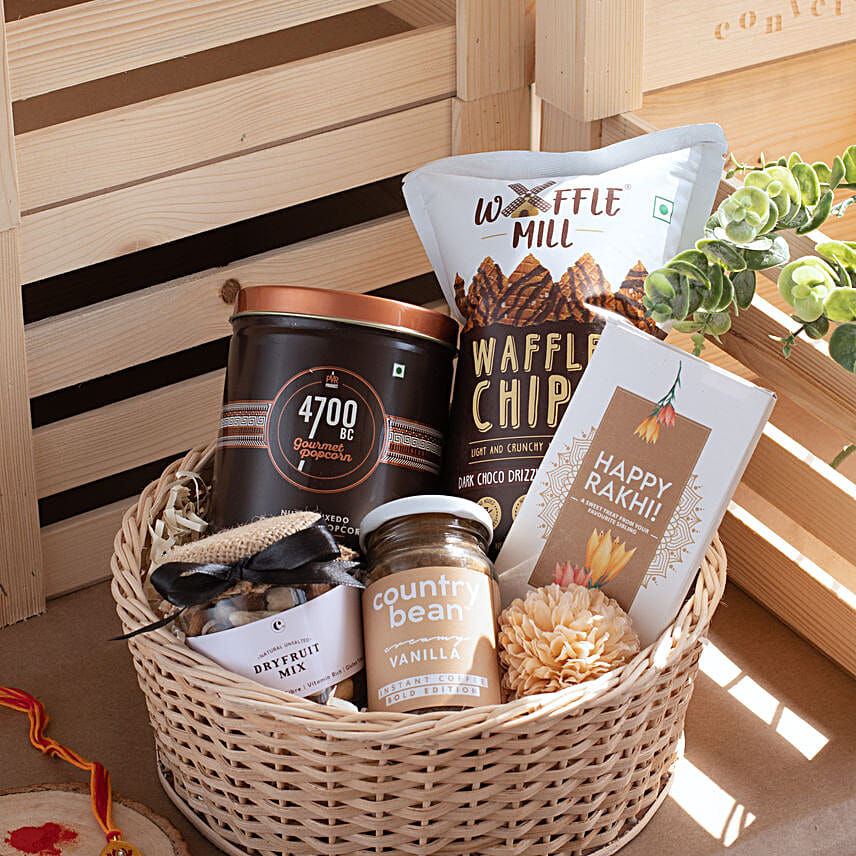 For an all-encompassing gourmet experience, this basket has it all. This carefully curated basket is a feast for the senses, featuring gourmet chocolate popcorn, waffle mill chips, a jar of mixed dry fruits, Country Bean vanilla instant coffee, a "Happy Rakhi" chocolate bar, and a Kundan Rakhi. It's a culinary journey that will transport your sibling to a world of flavours and delights.
Sneh Ethnic Peacock with Dry Fruits
The Sneh Ethnic Peacock Rakhi, with its intricate design and peacock motif, is a work of art that doubles as a symbol of your love and affection. Paired with a selection of premium dry fruits, it's a gift that balances elegance with taste. Your foodie sibling will surely appreciate the thoughtfulness of this gesture.
Raksha Bandhan is a celebration of the unique and cherished bond between siblings. While the Rakhi thread symbolises protection, these Rakhi gifts for foodies symbolise your appreciation for their love of good food. Each gift is a flavour-packed surprise, carefully chosen to satisfy their taste buds and warm their hearts. So, this year, let your foodie sibling savour the delicious surprises and make the festival a culinary celebration to remember. After all, the way to a foodie's heart is through their stomach!