Rakhi, the festival of sibling love is just around the corner! It's that time of the year when the unbreakable bonds of love between brothers and sisters are celebrated with great joy. While the sacred thread of Rakhi symbolises protection, the real sweetness of this festival lies in the delightful treats shared between siblings. So, why not make this Rakhi extra special by indulging in some mouthwatering sweets? In this blog, we're going to explore the top 7 Rakhi with sweets combos that will make your celebrations truly scrumptious.
Pearl Rakhi with Kaju Katli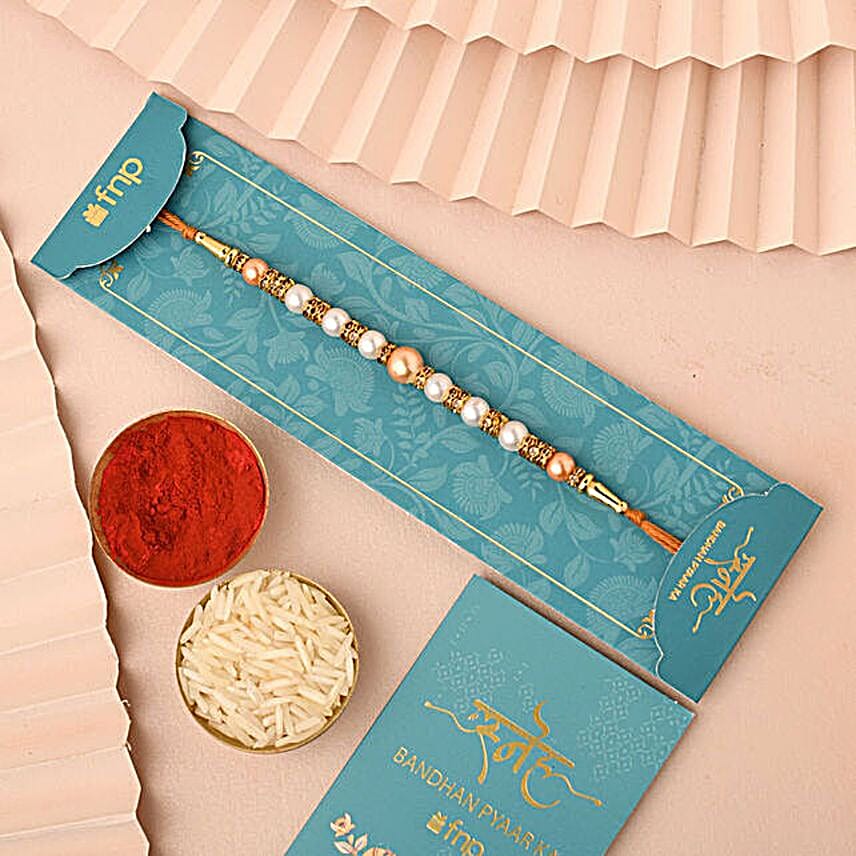 Kick off your sweet rakhi ritual with this pearl rakhi and kaju katli combo. As you tie this Rakhi, let your siblings relish the taste of cashews and let the sweetness of this delectable Indian sweet fill their hearts with joy. This combo is truly one of the best options for rakhi with sweets.
Bhaiya Bhabhi Rakhi with Rasgulla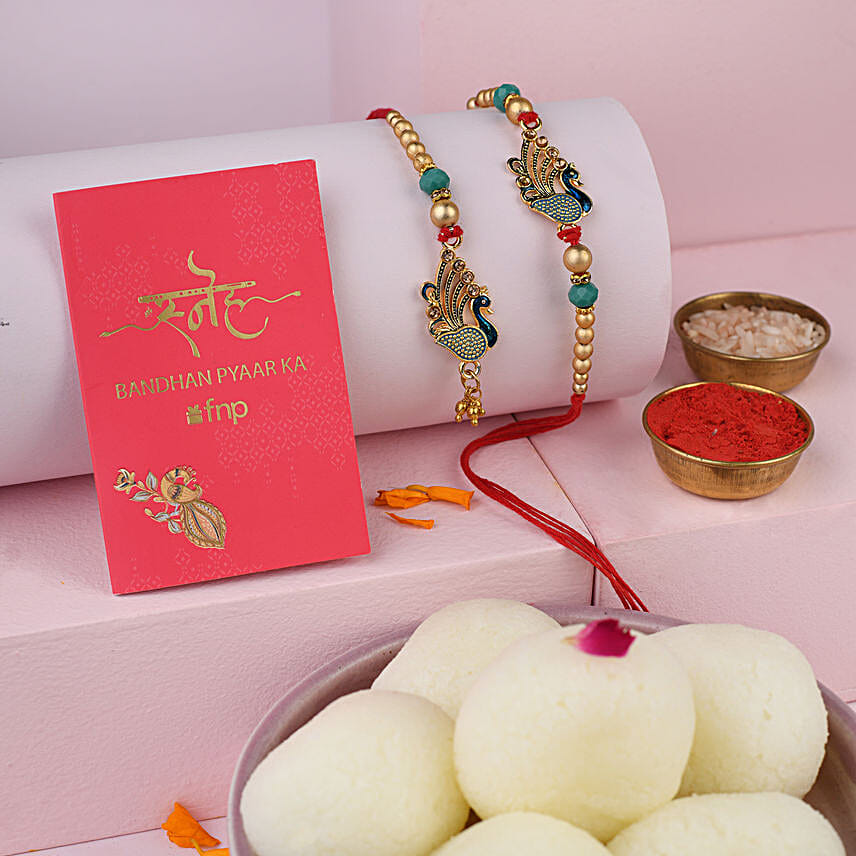 Rakhi isn't just about brothers; it's about celebrating the entire family. This bhaiya bhabhi rakhi paired with rasgullas is a wonderful way to show your love to your brother and sister-in-law. The syrupy goodness of rasgulla is a treat that everyone can enjoy together, making this combo an ideal choice for a family celebration.
Beads Rakhi with Gulab Jamun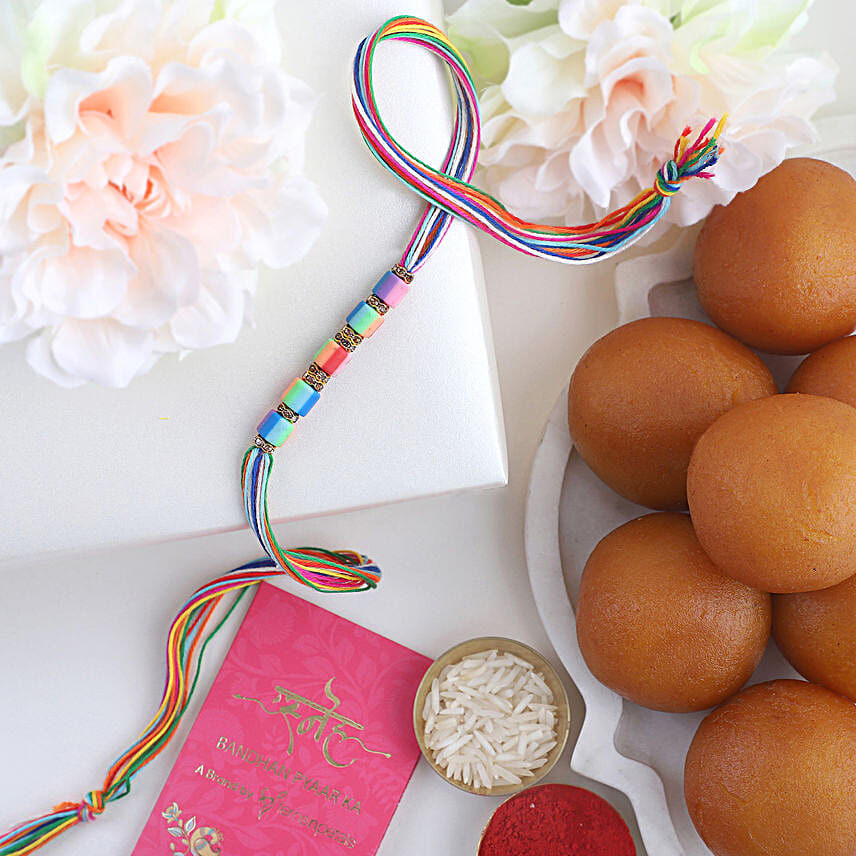 This beads rakhi featuring a colourful and vibrant design is paired with soft gulab jamun. The warm, sugary syrup of gulab jamun will perfectly make your Rakhi celebrations a symphony of sweetness. Moreover, for extra special gestures, you can go for rakhi hampers consisting of other treats as well.
Family Rakhi Set with Milk Cake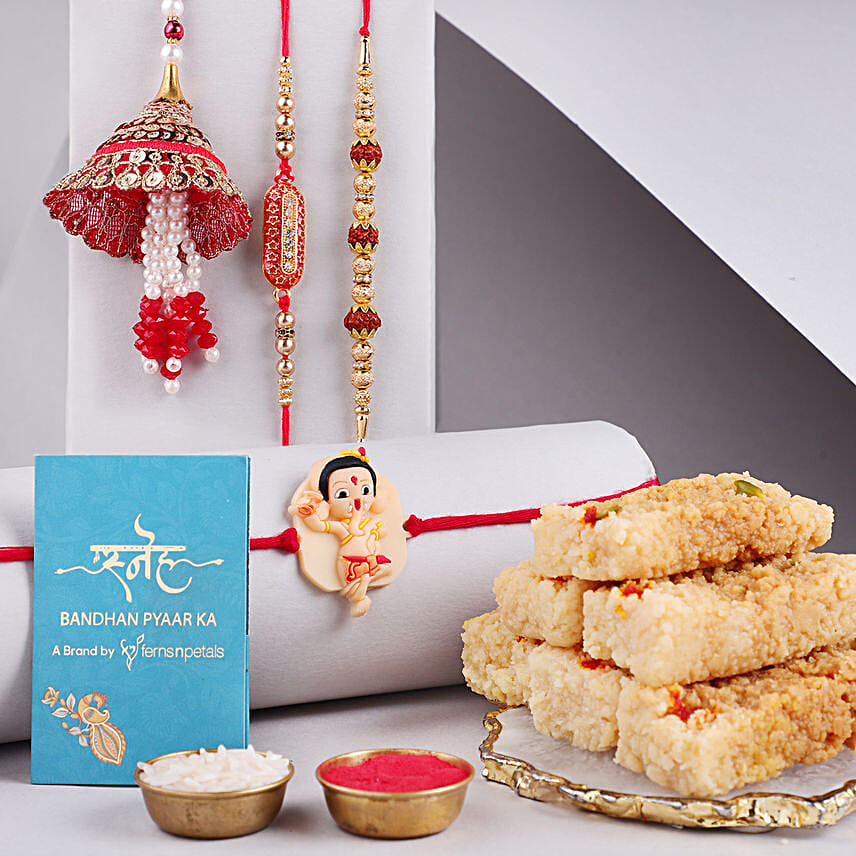 For those who want to celebrate rakhi with the entire family, this family rakhi set with milk cake is an excellent choice. Each Rakhi in the set can be tied with love, and the Milk Cake can be relished by all, making it a delightful family affair. Additionally, rakhi with chocolates can also be another good option to enjoy with family.
Sleek Rakhi with Sugar-Free Delights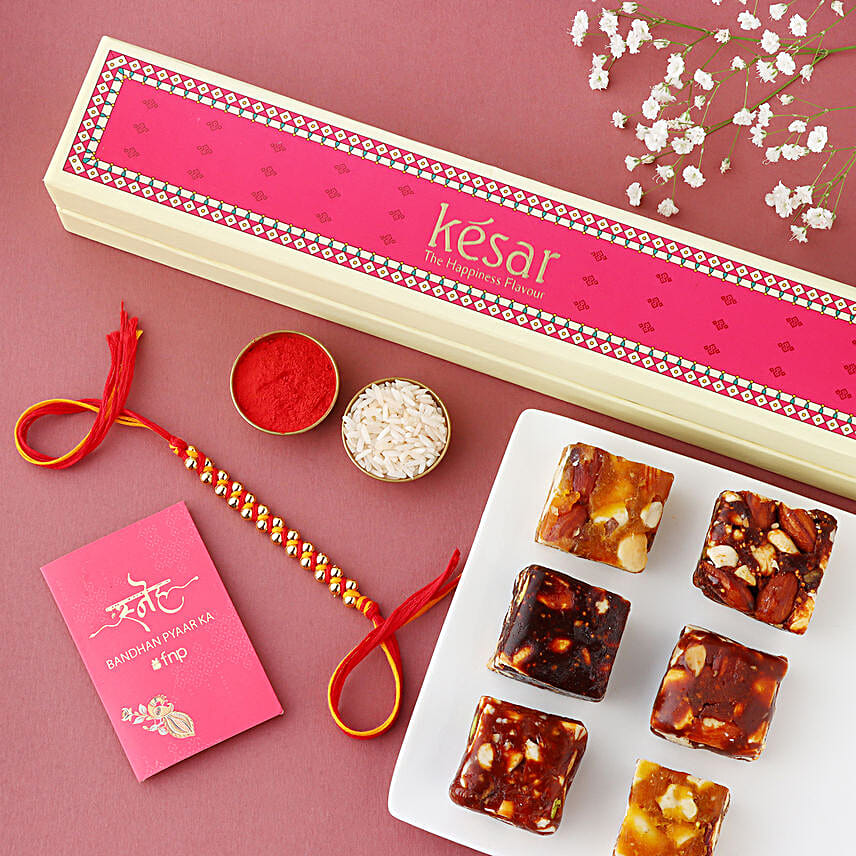 In today's health-conscious world, Rakhi celebrations need not be sugar-laden. So, this sleek rakhi paired with sugar-free delights is perfect for health-conscious siblings. As an alternative, rakhi with dry fruits is also a great option.
Bhaiya Bhabhi Rakhi with Besan Laddoo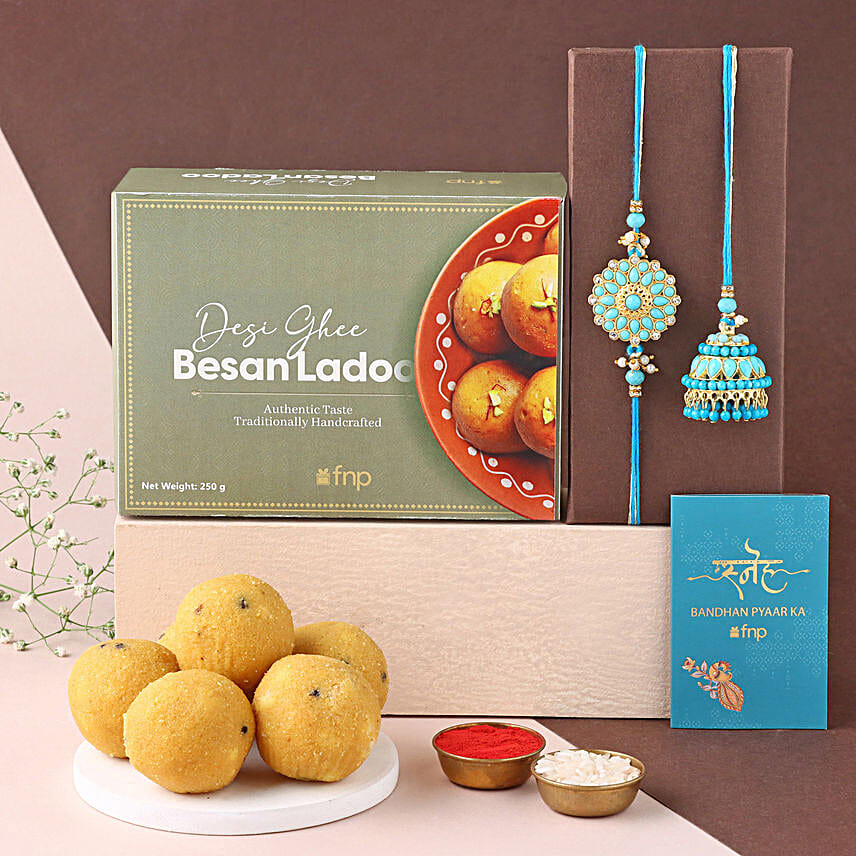 If you're looking to blend tradition with a modern twist, this bhaiya bhabhi rakhi with besan laddoo is an excellent choice. The rich and flavourful Besan Laddoo offers a delightful taste. It's a combination of old-world charm with a contemporary touch.
Rudraksha Rakhi with Motichoor Laddoo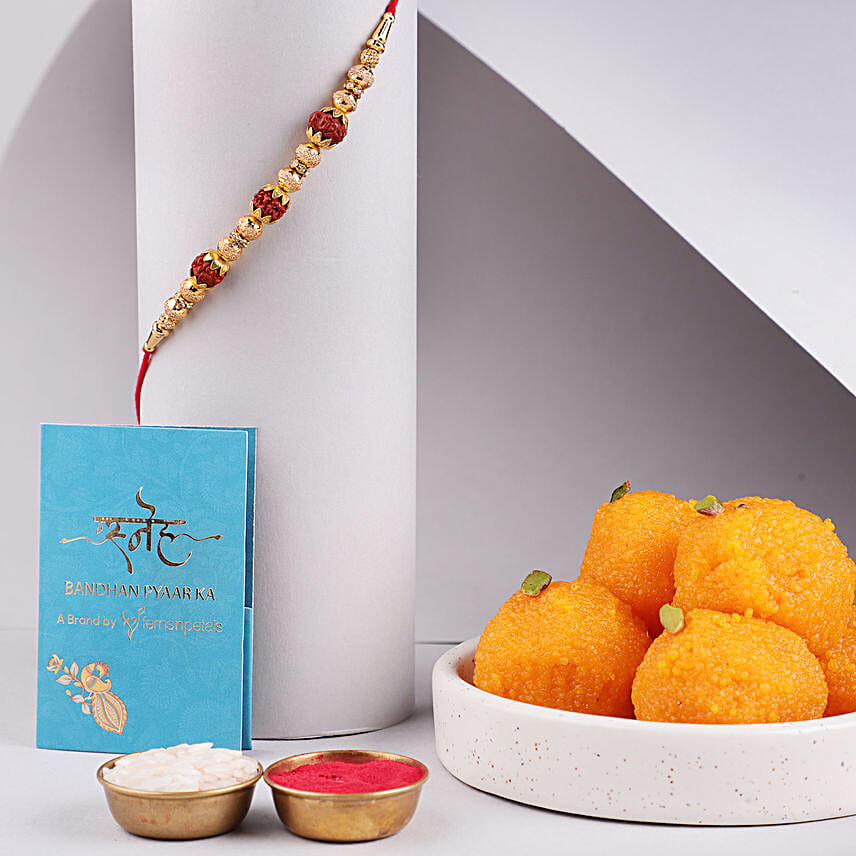 For those seeking a spiritual touch to their Rakhi celebrations, this rudraksha rakhi with motichoor laddoo is the perfect choice. The sacred rudraksha beads on the rakhi symbolise protection and blessings, while the golden orbs of Motichoor Laddoo offer a heavenly sweetness. It's a combo that blends tradition with devotion. So, when the next time you look for rakhi online, don't forget this combo.
So, as you prepare to celebrate Rakhi this year, remember that it's not just a thread but a sweet bond that ties siblings together. The delightful Rakhi with sweets combo offers the perfect opportunity to express your love and affection through the universal language of sweets. Wishing you all a Rakhi filled with love, laughter, and lots of delicious sweets!