As the joyous festival of Raksha Bandhan approaches, it's time to infuse the celebration with a touch of eco-consciousness. While the bond between siblings is irreplaceable, this year, let's make our celebrations even more special by choosing eco-friendly rakhi gifts that not only express love but also nurture the environment. So, here is a guide to curating a greener Rakhi experience that encapsulates the essence of this cherished tradition.
Plantable Rakhis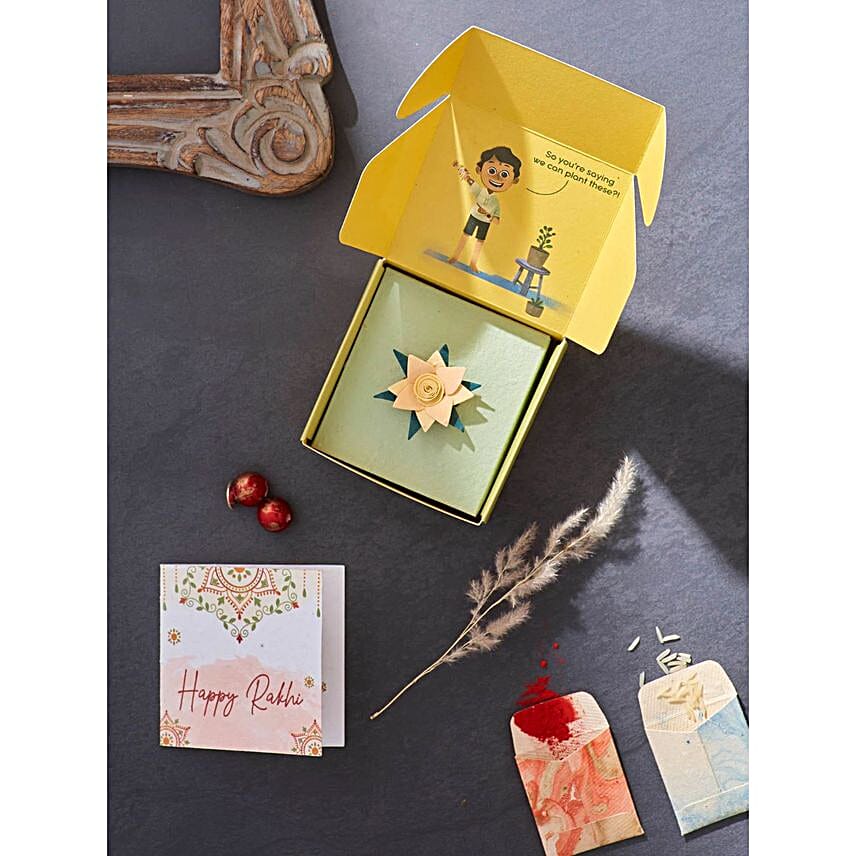 Step away from conventional rakhis and opt for something that not only adorns wrists but also nurtures the Earth. The amazing plantable rakhi designs are the embodiment of this idea. These rakhis can be planted after the festivities, blossoming into vibrant herbs. Imagine the joy of watching your rakhi grow, just like the love between you and your sibling. It's a reminder that relationships like plants, need care and nurturing to flourish.
Rakhi & Snake Plant with Almonds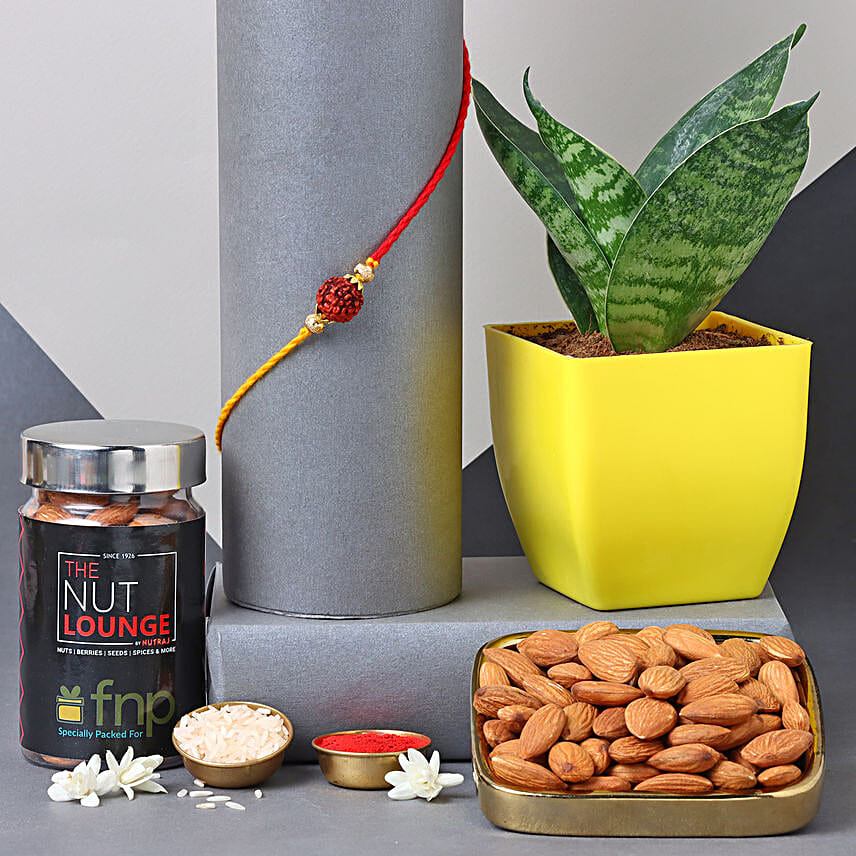 A rakhi that symbolises protection and a snake plant that embodies resilience – a powerful combination indeed. Pair this with a handful of nutrient-rich almonds, signifying the strength and nourishment your bond provides. As the snake plant purifies the air, let it also purify your connection, making it stronger with each passing day.
Eco-Friendly Plantable Stationery Bag Set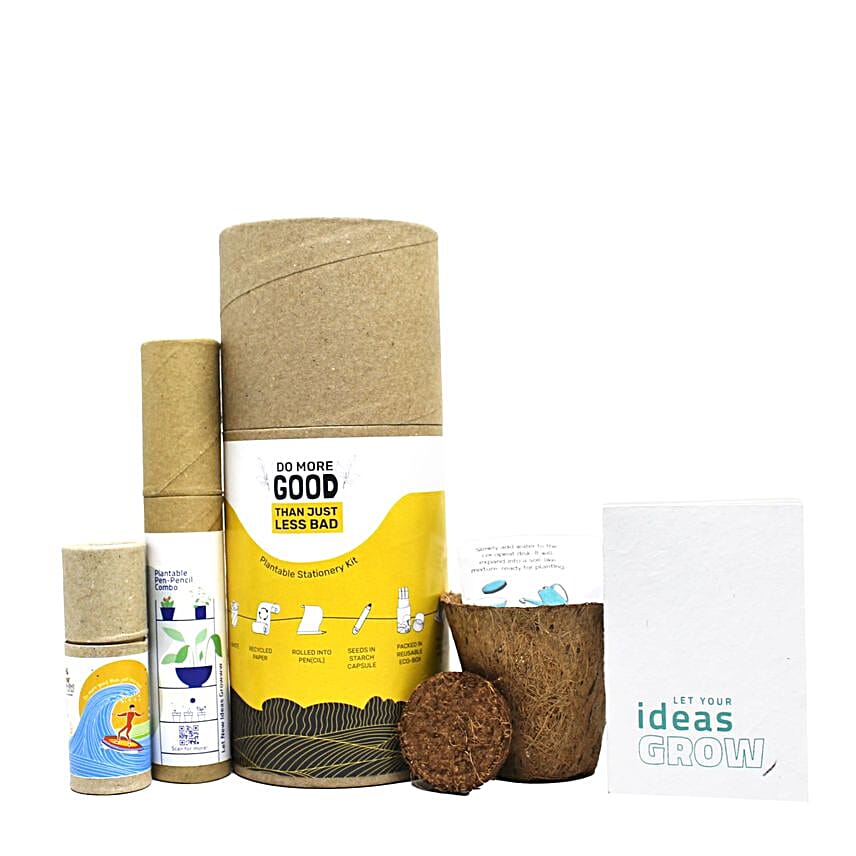 For a thoughtful and sustainable gift, consider this eco-friendly plantable stationery bag set. This set encompasses plantable pen pencils, mini colouring seed pencils etc. Each element of this gift embodies the cycle of growth. It's a beautiful way to celebrate Rakhi while instilling an eco-conscious mindset. Moreover, you can also order online rakhi & further pair it with this gift to make it a perfect pick for the festival. 
Mauli Rakhi & Jade Plant with Kaju Katli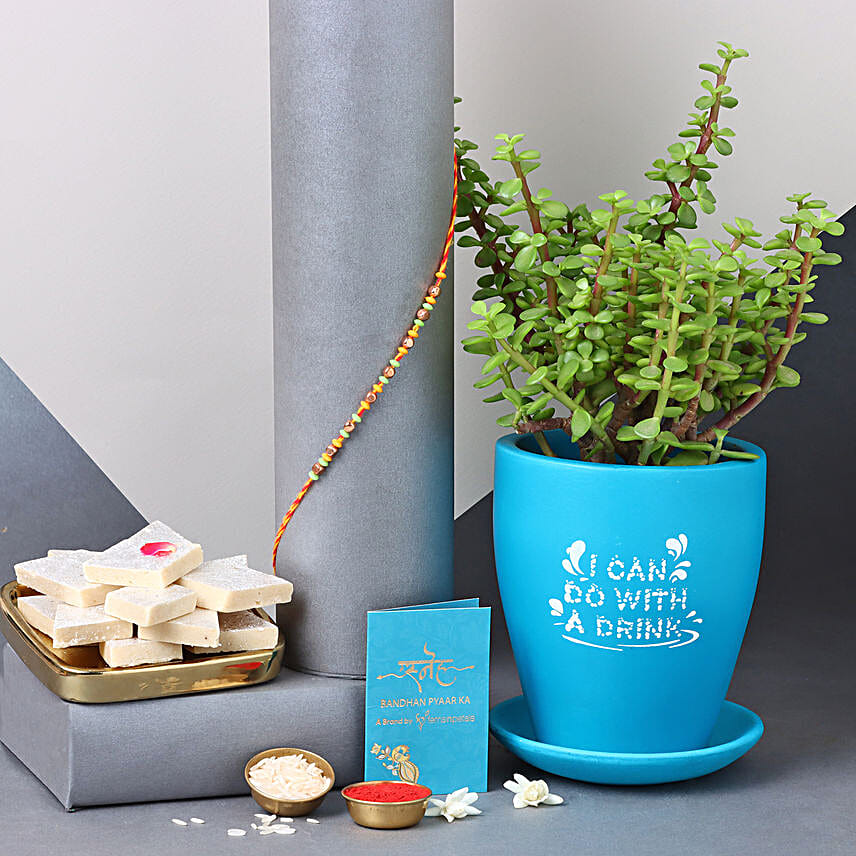 This mauli rakhi paired with a jade plant and a box of delectable Kaju Katli makes a perfect rakhi gift. The jade plant, often associated with luck and prosperity, represents the growth of your relationship. The sweet Kaju Katli adds a traditional touch, reminding you of the delightful flavours of your bond.
Designer Capsule Rakhi and Jade Plant House Pot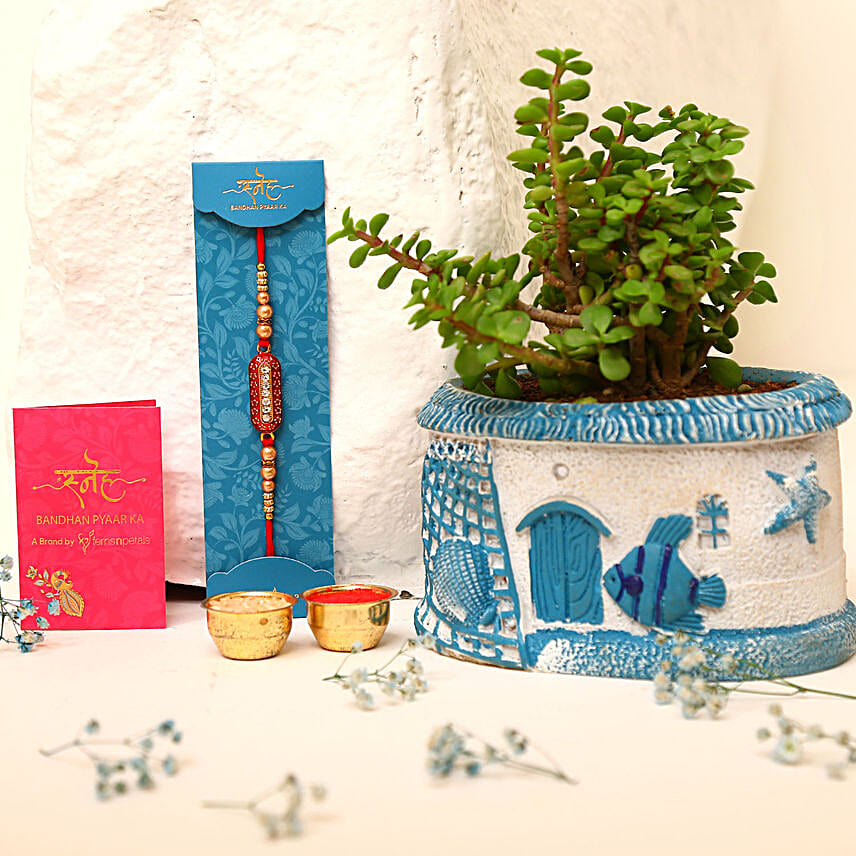 Elevate your Rakhi celebrations with this designer capsule rakhi that doubles as a stylish accessory. Complemented by a jade plant, this gift not only symbolises your unique connection but also adds a touch of elegance to the festivities.
As we celebrate Raksha Bandhan, let's remember that the essence of this beautiful tradition lies in the love, care, and protection we share with our siblings. Also, by choosing eco-friendly rakhi gifts, we can extend our love to Mother Earth as well. Each green gesture is a step towards a sustainable future, where the bonds we cherish are intertwined with the health of the planet. Whether it's the promise of new growth with plantable rakhis or the embodiment of strength through eco-conscious gifts, this Rakhi, let's embark on a journey of celebrating our relationships while nurturing the environment that sustains us all.