Rooftop Candlelight
Eating good food in fresh air with your loved one is one of the simple luxuries of life that we don't experience nearly enough. Aided with a nice view, enjoy a spacious rooftop dinner at one of Delhi's best reputed restaurants: Lutyens. You'll be greeted to a decorated table on the roof, and served a 4 course veg North Indian meal along with welcome drinks and coffee/tea. Not only is the restaurant very accessible due to its location on MG road, it's friendly staff along with the fabulous food make it an unmissable experience.
Please note:
A mist fan or heater can be placed at an additional Rs. 600 per tax.
Alcohol cannot be served at the venue.
What's Included
Rooftop decorated with candles and rose petals.
Two welcome mocktails
4 course veg North Indian dinner: 2 soups, 2 starters, 2 mains with bread, 2 desserts
Freshly brewed coffee or tea
Menu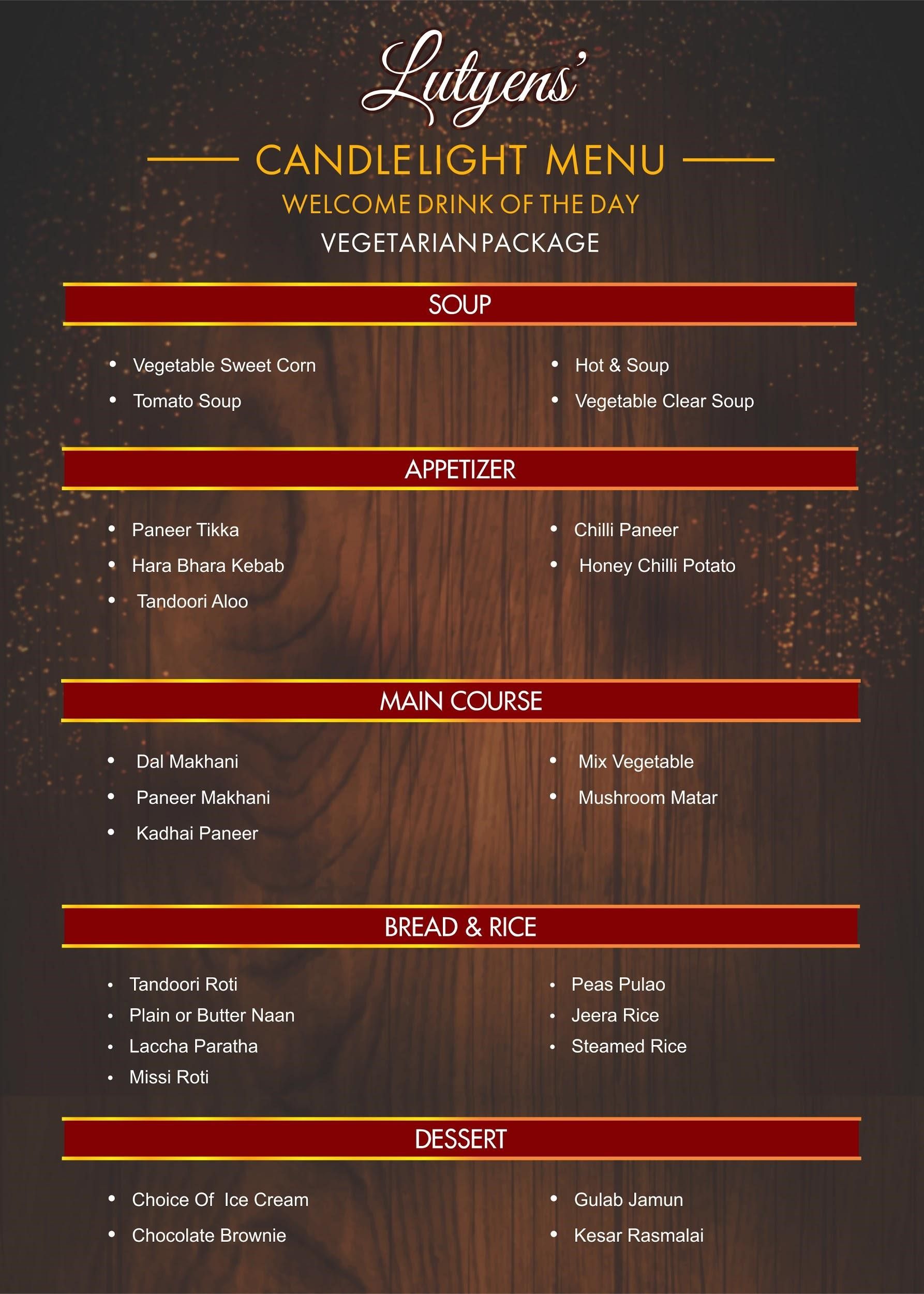 Addons
Cake

₹

599

Bouquet

₹

499

Non Veg

₹

500

Heater

₹

800
Features
wifi Wifi
credit_card Credit Card
smoking_rooms Smoking Area
accessible_forward Wheelchair Accessible
directions_car Parking
event_seat Outdoor seating
Address
Lutyens
222, 223, Faridabad Rd, New Manglapuri,
Manglapuri Village, Sultanpur,
New Delhi, Delhi 110030
View Map
Cancellation Policy
3 days or more before an experience: 97% refund
24 hours to 3 days before: 50% refund
Less than 24 hours: 20% refund
Less than 12 hours: no refund
Reschedule Policy
Rescheduling of the booking will depend on availability. Please call us on +91-9711302521 to check if reschedule will be possible.
Other Info
In case of any complaint, please inform us within 2 hours of the experience start time. We will mediate as necessary and get the concern addressed. Issues raised after the mentioned time will not be considered for any kind of resolution/compensation.
Once you make the inquiry, our team will strive to get back to you as soon as possible.
Bookings can be made for the next day as long as the order is placed before 6PM.
It's not a private experience as there might be more tables placed next to yours.
Children under 3 years can be admitted for no extra cost.