Food On The Fly
Airplane meals have always had a reputation for being terribly tasteless and uncomfortable, but this unique restaurant brings an amazing twist to your airplane experience. Not only can you enjoy a delicious meal on a plane, you can do it on the plane's wing! Parked in Rohini, this restaurant offers a grand 6 course meal on a decorated table on the wing of an old aircraft. A complimentary cake and a bouquet of flowers add to the wholesomeness of the experience. Completely safe and immeasurably fun, this a truly unforgettable experience for the price that can enjoyed regardless of the time or occasion.
Please note:
Parking is available at the venue
Alcohol cannot be served at the venue
What's Included
Dinner on top of an aircraft wing
Half KG Cake: Chocolate, Black Forest or Butterscotch (Egg or Eggless)
Flower Bouquet
Decorated table
6 course North-Indian veg dinner
Menu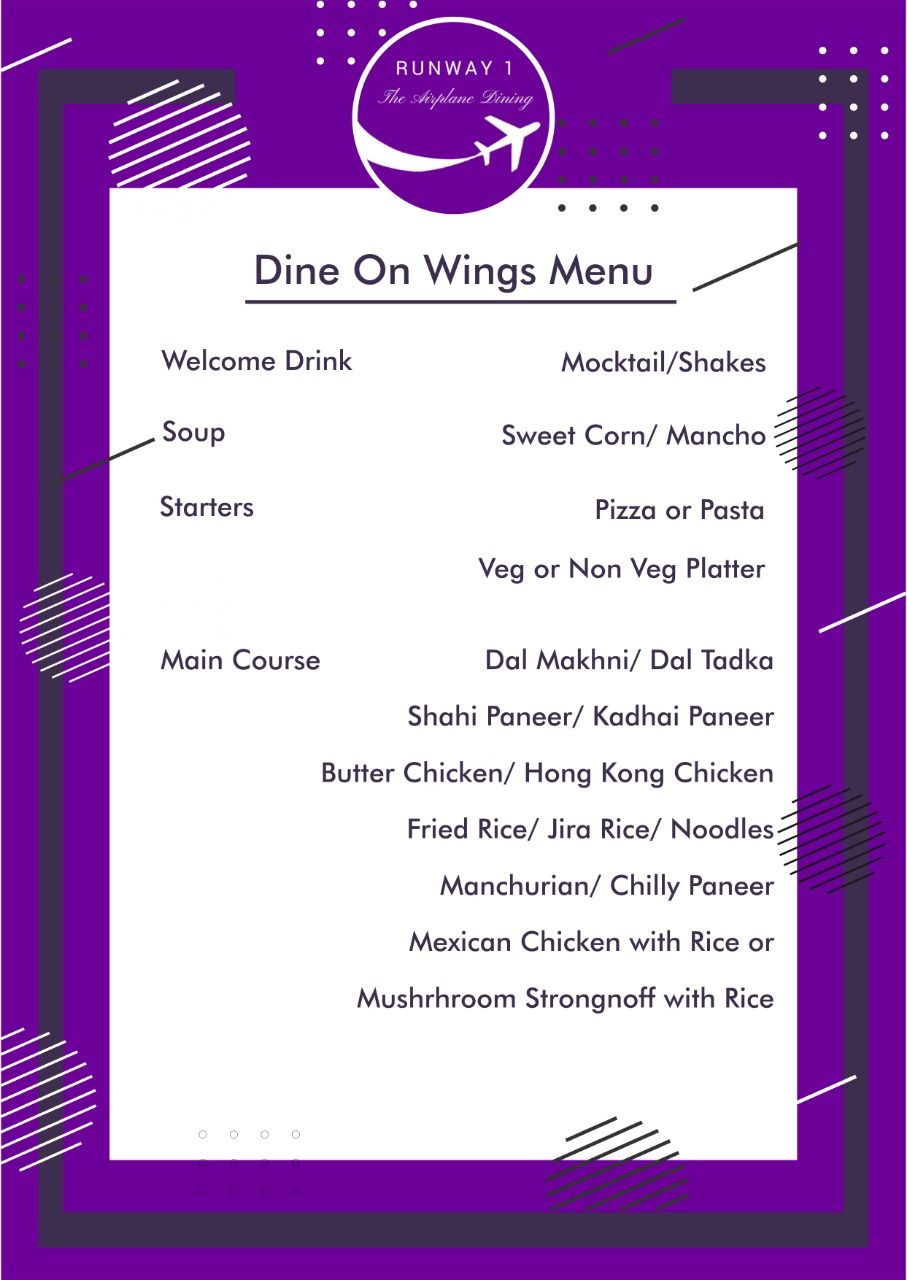 Addons
Non Veg

₹

1200

Cake

₹

599

Bouquet

₹

499

Lucky Bamboo Plant

₹

749
Features
wifi Wifi
credit_card Credit Card
smoking_rooms Smoking Area
event_seat Wheelchair Accessible
directions_car Parking
Address
Runway 1
Swarn Jayanti Park, Sector 10, Rohini,
Delhi - 110085
View Map
Cancellation Policy
3 days or more before an experience: 97% refund
24 hours to 3 days before: 50% refund
Less than 24 hours: 20% refund
Less than 12 hours: no refund
Reschedule Policy
Rescheduling of the booking will depend on availability. Please call us on +91-9711302521 to check if reschedule will be possible.
Other Info
In case of any complaint, please inform us within 2 hours of the experience start time. We will mediate as necessary and get the concern addressed. Issues raised after the mentioned time will not be considered for any kind of resolution/compensation.
Once you make the inquiry, our team will strive to get back to you as soon as possible.
Bookings can be made for the next day as long as the order is placed before 6PM.
It's not a private experience as there might be more tables seated next to yours.
Children under 3 years can be admitted for no extra cost.