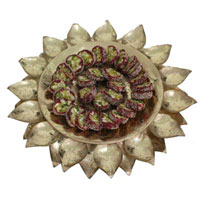 Living away from loved ones? It is said that long distances can wither your relationships. Well you don't want that to happen to your relationships, do you? You hence have to put in a lot of effort to make them work. Your loved ones need to know that they are still remembered, still loved and cared for .So make the important days in their life more important by sending them your wishes. Or why wait for an occasion, give them little surprises, well who does not like surprises.
Send them your best wishes through a variety of gifts at Ferns n petals. They have a gift for each and every occasion and for each and every relationship and they can get your gift delivered to any part of the world. Send a greeting card with a cute message of "I love you", "All the Best", "Take care", "Missing you" or a poem that you wrote yourself. Cards expressing condolences, congratulating your loved ones on their achievements or simply saying sorry or thank you will tell them that are loved and cared for. Flowers are the best gifts you can give any one. Couple them with a card giving them your best wishes, Cakes and chocolates with greeting cards are your best shot on birthdays.
Special greetings on festivals are always appreciated. Give your loved one X-Mass hampers, Rakhi with sweets hampers, dry fruit hampers chocolates and sweets and make your presence felt on festivals like Christmas, Eid, Ganesh Chaturthi, Bhai dhoj, Diwali etc. For kids out of sight is out of mind, Keep reminding them of you by sending them gifts, toys, teddies and don't forget to add a card with a sweet message. Gifts for birthdays, anniversaries, Valentine's Day are their forte but they also have gifts for other important days like Mother's day, Father's day, Teacher's day etc. Spiritual gifts for your grandparents on Grandparents day will strengthen your bond with them. I love Mom mugs, trays and hampers and cosmetics on Mother's day will make your mother's day and a grooming kit, amazing wines or a perfume will be loved by your father for Father's day gift.
Giving someone a gift is the best way to cheer them up and show their importance in your life. Ferns n Petals makes it easier even at distant locations. So what are you waiting for, Go ahead and make someone's day.