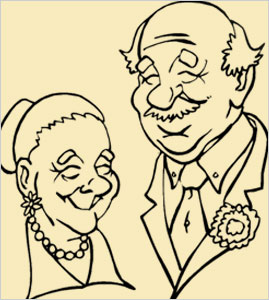 I was born into a nuclear family, with both my father and mother working. Being the only child to my parents, I felt lonely at times with nothing to do, apart from studies and TV. When I was 10, my parents brought home my grandmother and grandfather, saying that they would be my friends from now on. At that time, I did not know how to react, to be happy or sad. It took me few days to adjust with both of them, but with time I started enjoying their company.
My grandma and grandpa gave me love and care which I always longed for, but could not get from my own parents because they were busy in their own professional lives. They pampered me everytime, from preparing a nice dish for me to walking me down to school every day. My parents were also happy to see me getting closer to them day by day. They became more than grandparents to me, my friends and my lifetime companions.
I am in my mid thirties, a parent of two and still, I proudly declare that my grandparents are the best in this world and I love them more than my own parents. I am sure most of you can relate to my story and love your grandmothers and grandfathers the way I do. This Grandparents Day, love them even more with a small token of gratitude, in the form of a beautiful gift. To make this day an unforgettable one for them, just log on to Ferns N Petals and start shopping now!
Some relationships mean more than their names…